Alternative Uses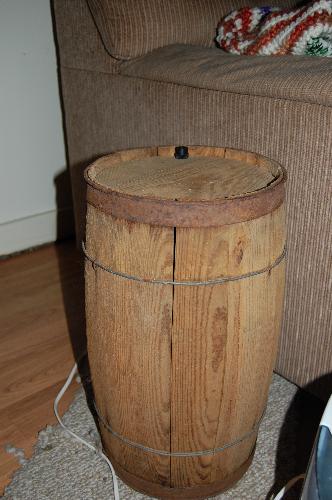 United States
May 11, 2009 9:07pm CST
One of the biggest obstacles for anyone moving out on their own is furniture. Or at least it was for me! My husband and I have lived in our house for about 4 years and we are just now getting all of the furniture we have wanted. We had to be quite creative. At first it was hard. We would look at the new furniture we wanted and feel like we would never get anywhere. Then we started looking other places and realized just how easy it could be! Now, I love our creative furniture. One of my favorite pieces is our table next to the couch. In reality, it is an upside down wooden barrel. I found it in my Grandfather's barn. It was about half full of chicken grit. After dummping that out and scrubbing it a few times, I let it sit in the sun. It finally didnt smell like barn anymore! Now we get to use it everyday as a table. It is quite a unique piece. I love it! I couldnt imagine wanting anything else as a table!What kinds of creative furniture do you have in your house? Have you ever had to find furniture for a house or apartment? How did you furnish your place when you first moved out on your own?
6 responses

• United States
12 May 09
We have been in our home for 8 years now. We thought it would be easier to afford furniture later so we bought used couches, and got a lot of hand me downs. We are still sitting on thoes same couches and they have lived their life and then some. We want new couches but I want a great deal on great couches so we will deal with these until we find what we want. Our book shelves are made from my friends old entertainment center. They are not ment to be book shelves but they work and were cheap. My sons bed is not on a frame but food storage instead(big cans and buckets). We have a mismatched lot of furniture but we have a home and we are able to pay our bills so I cant really complain.

• United States
12 May 09
We bought ourselves a couch last year. It was our first new piece of furniture! (And our only one!) It is just a simple one. I saw so many over priced couches that I was beginning to think that we would never be able to get a new one. We ended up at a small local furniture store. The couch we got was Ashley brand. It is very basic - no recliners or anything. But it is super comfortable! One of the things I really liked about it was the arms and cushions have zippers. If the stuffing ever goes flat, you can stuff more in it! I think we will be having this couch for a long, long time! I agree that it is better to be in your own home and be able to pay all of your bills than to show off for other people!

• United States
14 May 09
Thank you. I know that it takes patience to think through all the purchases we make in life but it feels so good in the end to know that we got the right thing for us. I love the idea of being able to add stuffing to the couches over time. How clever. I will have to look at ashleys and see what else they have.

• United States
13 May 09
When my marriage hit the rocks and my husband hit the road, he took everything that he had a reciept for! That left me with a house only half furnished. Thank goodness for friends and family! They generously donated outdated, worn, and useful items. One was a beautiful cedar wardrobe from about 1965 that I loved, but I had plenty of closets. what I didn't have, however, was a desk for my computer. I used an old piece of counter top for a sturdy shelf for the monitor and tower, used a slide from an old dishwasher and a board, to make a keyboard shelf, installed a couple more board shelves and a small flourescent light and tada! I had a very original and unique computer hutch that was custom fit for my needs.

• United States
13 May 09
Wow! That is pretty amazing. Im not sure that I would have ever thought to turn that into a computer desk! I am impressed!

• Malaysia
12 May 09
Being creative is the most valuable treasure that you have and it is a gift from God which not everybody is blessed with. I am excited to hear about the table you created from a wooden barrel from your Grandfather's barn. My husband had also created an office working table for me. He took home a canteen dining table which the school he was working at wanted to dispose off. He attached pieces of woods to the left, right and front sides of the table, the woods are also from the disposal list. Then he attached four switch boxes to my table so that all my electrical components can have electricity supply nearby without having to trip over so many wiring. If we buy something like that from a furniture store, I bet the price would reach 1 to 2 thousand but my husband managed to get it for me for only a few bucks. He even made his own switch box and he only bought the wires. And I sew my own curtains. I would buy the cheapest fabric from the store and turn it into decorative curtains. People won't believe it only costs me a few dollars to have a house full of matching curtains.

• United States
12 May 09
That is awesome that he was able to do that so cheaply! It is also great that those things didnt end up in a landfill! I have sewn curtains too. I have seen the prices on some and my jaw just drops. I cant believe that people pay so much money for something so simple!

• United States
12 May 09
I used to have an old trough that also came from a farm........I had it for many years. I turned it on it's side and used the side for the top...that way I could fill the open space with pictures etc...it was fun to have...now it's outside and going to be a planter this year....I still love it!

• United States
12 May 09
That is awesome! Its always nice to be able to continue to use something that you love. I love the way old troughs look as planters. I really want one to make a garden. We dont have a lot of space, but that would easily keep the garden contained and help keep critters out of it!

• Chile
12 May 09
Hi, Although I´m now at the stage of my life where I´m getting rid of furniture, I still have a trunk that has served various purposes since my parents bought it second hand in the Salvation Army. I have part of my parent´s furniture (upholstered again several times)and my children have some of mine. Our first bed was made up with wood and a hammer. We threw over it a mattress and looked wonderful full of pillows.

• United States
12 May 09
Sometimes it just doesnt make sense to go buy something new, even when you can!

• Lubbock, Texas
18 May 09
I'm not really creative when it comes to furniture, but creative storage space is my forte. I have 2 35 gal. lard buckets, the old heavy waxed cardboard type with metal bottom and top. I have all my youngest daughters dolls and stuffed animals stored in them until she has a house of her own. They are in my way and I don't have any closet space for them, so I stacked them and threw a colored sheet over them and put them in the corner of the living room with a plant on top.