What is a Spoiled Dog?

Canada
May 12, 2009 1:52pm CST
I am constantly bombarded with people commenting on my dog, that my dog is spoiled. What makes a dog spoiled? How do you not "Spoil" your dog? I have heard that you can not spoil a dog. What are your thoughts? Mine are that the first fifteen months of my dog's life were not pretty. She had a tough start in life. I took Roxy into my life to give her a forever loving home and that is exactly what she gets. She is loved much by everyone. She is disciplined. She has to follow my lead and doesn't get away with any bad behavior what so ever. For the joy that Roxy provides to everyone that has had the privilege to know her, she is well rewarded. Roxy's diet is a human grade, gets nothing but premium food and her diet is monitored closely. She doesn't get too many treats and when she does, they too are human grade, with all natural ingredients. Roxy has enough toy to keep her stimulated when inside. She will entertain herself, no problem. Roxy has cloths for all weather conditions for all weather conditions since she doesn't have fur but hair. No undercoat. Roxy, like most all dogs, has her own blanket. Her bed is my bed. I am having a canopy bed that rocks, built for her. She likes to rock to sleep. That is a bit extreme and may wage on the edge of being spoiled but I want her to be as comfortable as possible so that when she gets her new bed, she is happy to sleep in it that with me. Roxy has a regular exercise and discipline routine and is still being trained. Roxy has a future ahead of her that goes beyond just being a family pet. I brush her teeth, wash her face once a day and bath her once a week. She has her hair put up in a top knot or barrette(s) daily. If I don't she can't see. I keep goopies out of her eyes as required. She visits the vet regularly for anal glands and nails. Roxy has a booster seat for the car so that she can see out the window when we are driving but also so that she can be secured into her seat while we are traveling. Now what sounds spoiled about any of that? To me it is simply adequate care for a small toy dog. Does my dog sound spoiled to you? If so, why? What is it that gives you the impression that she is spoiled?
8 responses

• India
13 May 09
Well, you are lowring her tolerance to outside environment. Well, you are on the brink of spoiling her. that is to say all this is luxurious to her, though not pompus yet. As long as you don't add boiled water and a shopping cart for carrying her around so that she doesn't have to walk, you'll be fine.

• Canada
17 May 09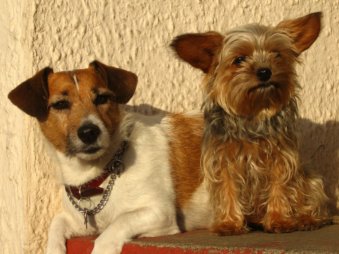 Thank you for your response, which I respectfully read and absorbed. i wont tell you that I often do put her in the shopping cart and or basket when shopping in stores that she is allowed, if her front carrier is left at home. She isn't allowed to walk in the stores. I have to carry her or she wont be allowed in. Otherwise she walks. Sometimes when we have gone too far from home, walking, she will lay down about 1/3 of the way left to go to get back home. I will have to carry her then if I am not into stopping and resting with her. I believe that my dog is very tolerant of the outside world. If she had a fenced yard and a dog house that would keep her from the elements, she would opt to stay outside 24x7x365. She prefers to be outside with the grass, birds, bees, flies, cats, dogs, horses, people, rocks, water etc. Glad you don't think it is pompus yet. Thankfully, she doesn't act spoiled. She is actually very well behaved. I get comments about it regularly. She responds well, usually to most commands. Unless she is with her cousin Jack, the Jack Russel. That's another story. Two peas in a pod they are. Trouble! Lol. Roxy is still in obedience and other training. Thank you for your opinion. Cheers.

• India
18 May 09
no probs. btw, what i meant was ur making her lazy. As you said, she can't walk a long distance. Maybe you should take her for long walks sometimes. That's what people mean bu spoilt. You are giving her all the pleasures of life. She should also deal with some hardships. like running a long distance, so that she gets a stamina. No one means that she is badly behave or something.

• Canada
13 May 09
Obviously she's not spoiled for you, but do you have Human Friends. She may be badly spoiled for them. Does she jump on them demanding attention? Does she climb on them when they sit on the sofa? Does she bring toys to them demanding they pet her or notice her? Does she beg to get patted or scratched. Does she sniff at their legs, lick their shoes or fingers? If she does any of these things, she is badly spoiled and may be chasing your human friends away.

• Canada
13 May 09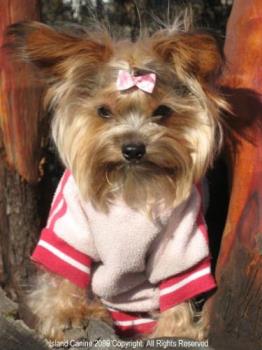 Hi barehugs, thank you for your response. You make a very good point and is partly why i had made this post. Roxy is still in training and are some things she must learn and accomplish that most other dogs wont have to. In order for her to be successful she must listen to others and obey hand signals from people other than myself. As I mentioned, she endured some troubles in the earlier part of her life. troubles that were brought on to her by humans and other dogs. Roxy doesn't like everybody but when she does like you, you will know. She will let you pet her for example. I appreciate your response and is giving me something to think more about. When she is at my Moms, whom she loves and is the first place she went when I got her, she does go sit in front of my mom and looks at her. She wants my Mom to rub her chst which my Mom has done since day one. Roxy doesn't demand attention. If she is meeting someone and she likes them she may jump up to get more pets and to give kisses. I am training her down. I do not want my dog to be jumping up on anyone. She is getting it. Roxy does not climb on anyone, thankfully. No matter where they are sitting. She isn't like that. In fact everyone wants to pick her up and my Dad always wants her to sit on the sofa with her but she wont go. If she wants up she will come to my and put her paws on my leg. Other than that, you are lucky if she even lets you pick her up. Very unlikely. She will let me pick her up though. Roxy and her toys. She is a real tease. When anyone comes over she will run to get any toy, the closest one and goes to greet them. She wont demand attention persay she will just circle them without getting close enough that they can pet her or take her toy. She just goes in circles. She has done this since day one. Is that demanding attention? She does it to me too when I have been out and come home. Roxy loves to be massages and scratched but only by a select few. She wont let anyone get that close to her. My sister and I picked her up when I got her and we went straight to my Moms. We are the only ones that can rub and scratch her. She doesn't beg for it but she will go sit by my Mom and when she does, we know what she wants. I think I will tell my Mom not to rub her when she does that but to rub her when she wants to. It is important that life doesn't revolve around her, even though she would likely enjoy that, very much. If Roxy wants something, it doesn't mean she is going to get it. Roxy doesn't sniff legs, no. Never licks shoes and does lick fingers, no. Is that good? I am pretty sure that she isn't chasing my human friends away. In fact people come to see her. There are people who want to pick her up but she wont even let them get close enough. Roxy needs to learn that to her people are Okay. This is one big hurdle. She needs to be around other people more, without me so that she can gain that needed confidence and not be afraid. She was badly treated as a young puppy. Brings tears to my eyes but is true. We are working on having her confidence boosted. Thanks again for your response. We have some things to work on more. I do have human friends, yes.

• Canada
13 May 09
Thank you for your detailed retort to my response. It sounds like "Roxy" is a wonderful little pet, and I think you are doing ok with training her.I came down so hard on you, and your dog, because there is almost nothing worse than somebody elses spoiled dog ( especially then the owner is your friend and you can't tell her what you think of her stupid horrible little monster of a Dog!) Actually I admire a well trained dog, and I admire its Owner and Trainer even more!

• United States
12 May 09
We humans do tend to humanize our pets, especially dogs. Most of this does not hurt the dog but is unimportant to the dog or it's quality of life. Your dog lives in the now, what ever happened to it before is unimportant. Most of what you have described are things you do to make yourself feel better about her life. Dogs need good food, exercise, clean water and enough grooming to keep them healthy. She would do just fine with a much simpler life. On the other hand you have the right to treat her as much as you like and whatever gives you satisfaction, that is the perks of having a pet. So don't mind what others say as long as the dog is happy and you are happy enjoy..

• Canada
13 May 09
Thanks for the chuckle savypat re: "She would do just fine with a much simpler life" lol. Maybe she would. I understood that dogs retain whatever went on in the first year of their life. I think Roxy does remember certain things. She is still over coming some hurdles from the troubles she endured within those first fifteen months. Confidence is one of them. Eating out of her own dishes is another. There were issues of having her eat out of her dishes without being scared. I know my dog appreciates the play time and walks because when I have been delayed and she missed out, she wasn't as happy the next morning. I guage how happy she is by how she acts in the morning. Sounds strange but if she is content she is happy, wiggly and kissing in the morning. If she is getting or has been bored, she will sleep in and not even greet me when we wake. Does my dog sound humanized? If I don't put her sweater on and it is cold out when we go for a walk she wont want to go. She will be holding her bladder then. She wont be impressed. If I do put her sweater on and it is cold out, she is fine and happy to go for another walk and relieved she could go to the bathroom. Thank you savypat, I wont mind what others say. I just want my dog to be happy and content. For a well rounded dog we must exercise, discipline and reward them, in that order, daily. Which I do. I've know several dogs in my time. I have seen dogs who are not being treated with much respect and those that are, such as my own and their is a big difference in their presence. I prefer a happy dog. I don't think she is spoiled but well cared for at the least. I never yell at my dog either.

• United States
13 May 09
Just remember that dogs form habits and are uncomfortable when these habits are changed in anyway. They have minds that don't allow them to foresee the future and so when ever anything in their lives changes, mother nature makes them afraid and uneasy. How afraid seems to depend on their own personal history.

• United States
13 May 09
I don't call that being spoiled, I call that being "doted on." Some of those measures (the rocking bed and booster seat) are more than some people will do but I cook my dog an egg twice a week and feed her carrots and always cook an extra corn on the cobb when I'm making that for dinner and I recycle all my (and my friend's/family's) pillows for my baby's inside bed and her doghouse. So I really don't think your dog is spoiled. In my opinion when a pet or a child is "spoiled" there is a negative connotation. Usually a person (durry or fleshy) is called "spoiled" because they behave badly and their parents (or persons) either don't decepline them or passively encourage the negative behavior. Now, we must consider that this term is frequently used flippantly (and people don't always make an effort to choose a better word) therefore much of the time when people say "spoiled" they just mean "doted upon" - big difference people, worth the effort to say what you really mean. "Spoiled" = negative term: badly behaving with passive unconcerned or inefective managers/parents. "Doted upon" = positive term: Well cared for above and beyond the strictly necessary, adored. *steps off soap box* Next... ;D

• Canada
17 May 09
Lol, Very Good and I couldn't agree more. Well said yambucket! Sounds like your dog is very well looked after and respected as all dogs deserve. thank you for your response. I have enjoyed the reading. Cheers!

• United States
13 May 09
I dont think your dog is spoiled. I think that people who aren't fans of dogs or animals(not that they hate animals are anything its just some people don't like to be around animals)just dont get how much goes into caring for a pet especially when you have a smaller bred that has to live inside. Its really like having a child. You are how they eat, and get shelter. They depend on you for everything. And like children, you give them toys and little trinkets cause you love them and what them to have nice things. My Maltesse/Shitzu mix Jonah, has lots of toys, he sleeps on my bed or underneath it, he has a sweater that he wears during winter when I take him on walks. He doesn't have a booster seat but he does have a leash that attaches to the selt belt. Nothing you described is over the edge and it sounds like your dog Roxy is well cared for and loved.

• Canada
17 May 09
Dear renemouche, thank you for your understanding response. I totally agree with you. The smaller breeds require way more care and attention than say a St. Bernard or other larger breeds. If I don't brush her hair out at least twice a day, it will get matted. I can't brush a dry coat either so if I want her hair to be healthy, i have to have proper solution for it to dampen before her grooming. The small dogs are notorious for loosing their teeth before age five so she has hers brushed everyday and has now come to expect it. She likes her mouth clean and fresh and frankly, I don't blame her. I want my dog to be healthy with no allergic reactions to foods so she is on a premium diet. I could go on and on but you know all of what I spoke about and your response is appreciate. Thankfully, I am not the only one who "gets it" when it comes to these toy dogs. Cheers.

• United States
12 May 09
She is spoiled but no worried becuase my two are spoiled also. They get bottled water to drink (you cannot drink our tap water so they get what we do) When we travel they go with us or we do not go. While They do not have the special bed they are both welcome in bed with my husband and I. I say that as long as you can afford to treat your dog in the manner you are treating her in without is effecting your bills or children (if you have them)The spoil your dogs. Why not? I mean you can;t take it with you so you should enjoy what you have.

• Canada
12 May 09
Thank you for your response. I don't think that your dogs are spoiled since they get bottled water. I give my dog filtered water. I am curious why you think my dog is spoiled? No offense but seriously. I feel I am doing bare minimum, short of the new bed she is getting. I feel it is necessary to give my dog what she needs. I think too many people get a dog and pay not attention to it but toss it some food once a day. maybe walk it once a month if that. To me, that isn't fair. I am trying to understand, I guess then, how a dog that isn't spoiled would be treated like. I appreciate taking the time to respond. Sometimes my dog has to stay home but she has everything she needs and I leave a talk show on for her.


• Singapore
13 May 09
hey there, i believe one can spoil their dog. my dog is as good as spoilt. he doesnt really care about anything other than food. he has bitten almost everyone in the family and prevented some of my relatives from entering my house. we believe that he is behaving in this way because when he did the wrong things in the past, we did not make sure that he knows it is wrong. my friend said that we were supposed to feign like we are angry and want to hit him just to let him know that what he is doing is wrong. i dont know. but i guessed hes spoilt. haha