Samsung S730 My very own digital camera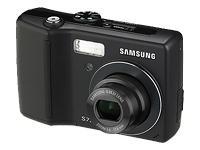 Philippines
May 14, 2009 11:14am CST
I bought my very first digital camera last year, which was of course Samsung S730. I had to buy a digital camera for the upcoming Eraserheads Reunion concert way back August 30, 2008 so I may take a picture and video the very exciting event for all Eheads fans. I've been looking for a phone that has very nice picture and video quality and most of all, cheap. And walla, Samsung S730 is the one that really caught my eye. Very easy to use and it has lots of features that a newbie from photography was very helpful. Its very durable and I've been taking lots of picture of me and my family. And its great for saving precious moments of you and your family. I really do recommend everyone to have this phone, especially for beginners in photography like me.
2 responses


• Australia
20 May 09
If you want pictures of bands then this is NOT the camera for you. The zoom is too short, the low-light and high ISO results are far too noisy, and the refresh rate is too slow to do what you want.

• Australia
19 May 09
Cheap and neat and a nice looking camera for a newbie; congratulations.