A different kind of garlic from China.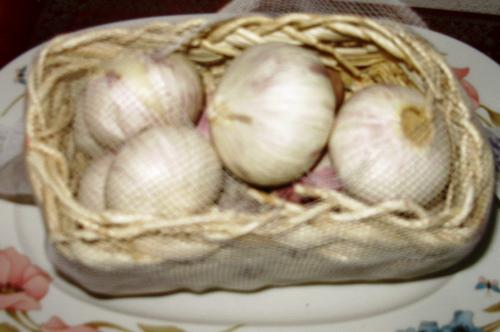 May 14, 2009 2:18pm CST
For many of us who use garlic it is sometimes awkward to skin all the individual cloves. Look for a variety that comes in little baskets with 250 grams(just over half a pound.) It costs here 1 dollar and 30 cents which compares favourably with the conventional type. See the picture which I have attached. It comes from China and each bulb is a complete unit with no individual cloves. With the point of a sharp knife carefully cut out the little hard piece where the roots were attached and from the bottom peel back the skin. It comes away very easily. Much easier to use and tastes just as good. Hope your local supermarket stocks it. Let me know if you find it. I would be interested to hear from any of our Chinese friends who know this variety.
2 responses


• Canada
14 May 09
I really like garlic and I always buy the garlic all the time it really dose not matter what country it comes from as long as as good. cd