Poor Inventory at Wal-Mart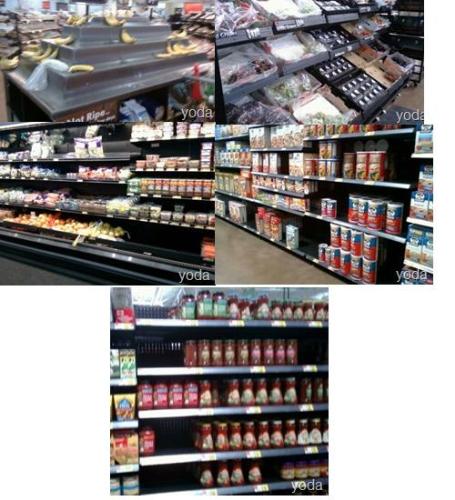 United States
May 16, 2009 9:05pm CST
Whenever we go to our local Wal-Mart here in Fernley, Nevada, it is difficult to get the things we need, because their shelves are always bare! Today was no exception. My hubby went to get peppers for fajitas for dinner tonight, and couldn't buy them because they didn't have any. This time my husband complained and was told it was because they were a small store. The funny thing is that I just bumped into an article on the net complaining about the very same thing at the very same store. The pics are below. Is this common with all Wal-Marts, or are we just lucky?
8 responses

• United States
14 Sep 09
From what I see in the pictures it looks like there is a real on-hand problem. The produse used to have to be manually ordered daily which would result in full shelves and happy customers. Now the produce is orderes through the p.o.s. (point of sale) system. So if the cashiers punch in the wrong code, associates don't markdown the stuff they throwaway, or customers decide they'll eat an apple and throw the core on the shelf. All of that is unaccounted for which causes the system to think that the inventory is still there until it is corrected. Another problem that I saw is that the employees probably don't take pride in their store, and are just there to collect a paycheck.

• United States
17 May 09
As you can tell from the above responses: it is completely different from store to store. Peppers will be particularly tough to judge how well they are doing on in-stocks because they are produce: subject to bad shipments and timely sales. If a store isn't selling many, they aren't going to order many, for fear of having to throw them out. What I'm amazed by are the store photos. Wal-Mart isn't very fond of people taking photos (although I guess it is harder to enforce now with cell phone cameras everywhere). Overall, if your local store is ALWAYS low or out of more than about 5% of its selections, then the management of that particular store is not doing its job! Go to the Wal-Mart website and send an e-mail to a Regional VP or higher and complain.

• Puerto Rico
17 May 09
No my walmart (which is big) has selves that are filled. However I did have a problem one time concerning peppers. They told me a different story which I can't recall at this time. When they do have peppers in the store they are selling for 99 cents each but at Sunflower they sell them for 2 for 1 dollar. So much for the lowest prices. So I have resigned myself to by my produce at Sunflower - they are so much cheaper. I was just there two days ago. I brought two cucumbers, 2 peppers, 5 garlics, 8 grapefruits, and 6 bananas for $5.51. If I had brought the same amount at Walmart it would have been at least double the amount if not more. Seriously!

• United States
17 May 09
Wow! That's horrible. I've been in some small town Wal-mart's and they are always stocked better than that. Maybe they don't have the inventory or maybe they don't have the employees to stock the shelves. They start at like $7 an hour. Do you think all these people that got laid off who are making more on unemployment would go to work there? It's hard to say what happened. If you don't see stock people then they are either out of stock or no one is working for them. LOL.

• United States
17 May 09
The Walmart where my college is located is like that. It's closer and easier for students to get there and it's always out of certain items. You can go each time they restock and they never get those items on the shelves. However, there is another Walmart across town that if you head to usually has just about everything. They restock constantly and seem to never run out of anything. That Walmart is a little bigger than the other store too. I'm not sure if that has anything to do with it or not.

• United States
17 May 09
I think you're just lucky. The Wally-World here is usually in good stock of produce, of course their snack aisle can get kind of bare from time to time. Shouldn't be a problem for a while tho, since they've now got Meijer competition just a couple blocks south of them. Last time the hubs & went to shop, Meijer was packed, so we passed it and went to Wally-World and guess what, we got a good place to park, didn't have to wait for people to move on before we could put what we wanted into the cart, and were only 3 customers back in the line. Best Wally-World experience I've ever had really, tho I do have issues about how they treat their employees there, and would have rather gone to Meijer lol...but alas, the hubs wasn't having it due to the packed parking lot. I hope your Wal-Mart can manage to get it together.

• United States
17 May 09
We have a super Walmart down here where I live and I've noticed for a while that the store is not as well stocked as it used to be. Neither is our local grocery store. I suspect that the rising cost of gas caused the cost of transporting inventory to these stores and they are getting deliveries less often than they used to.