Photos of the swine flu epidemic germs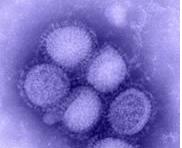 United States
May 18, 2009 11:42am CST
So many people worry that they'll catch the swine flu. By sheer chance, I entered the words 'swine flu' into my browser bar and was redirected instantly to the CDC (Center for disease control) website. How convenient! Lots of great info over there about the illness. Anyway, here is a photo of the germs that cause swine flu. Know your enemy! Click on the pic to take a look. Also, here's my question. Are you worried that you'll get swine flu?
5 responses

• United States
18 May 09
I love looking at pictures like that. It is really interesting to me. That is one of the few things I miss from college - being able to play with that kind of stuff! I am not at all worried about the swine flu. I am never worried about the flu - of any variety! I am an overall healthy person, so I definitely have that going for me. I work in a lab, so I dont come in contact with a lot of the general public. Besides, stressing about the flu will only lower your immune system! I dont need more stress in my life - I am already trying to elminate the stress I have! Thanks for sharing that picture! I dont want to wade through all of the CDC info myself!



• United States
18 May 09
I think that people get so scared for no reason! Of course I take normal precautions. But I do that even when there isnt a flu scare! Sometimes I think people really miss the whole picture.

• United States
18 May 09
Yep! People get all spooked over a couple little germs. For me, the possibility of getting HIV is a more scary thought. I don't engage in risky behavior. But still it's not out of the question that it could happen. Noone is talking about HIV and AIDS anymore. It hasn't gone away. It's still around. For me, that's scarier than the swine flu. And the scarier part is that lots of teens and college age students are getting HIV. Young people need to be told about the dangers.



• United States
18 May 09
Thanks for your kind comments. I'm not worried about catching the virus either. This past couple years, I got a really horrible flu like virus and it can't be much worse than that. For me, keeping up my immune system and making sure my family stays healthy are my top priority. That leaves very little time to worry about viruses.

• China
19 May 09
Hello beauty queen. To be honest, I am worried about the spreading of the swine flu. These days I hate to travel unless I have to. Otherwise I would rather stay in my own safe town. I think that during this special period of time, it is better not to travel. When we travel, we will have to be with a lot of people. Who knows what will happen. Thank you for the photos of the swine flu epidemic germs. I will be able to have a look at them after posting this response soon. Take care.

•
18 May 09
Hi beautyqueen26, No I am not worried about getting swine flu as I keep myself hygenic and wash my hands often, it is no use worrying about it, it can make you ill. Tamara