Budder the Wonder Dog! We miss you girl!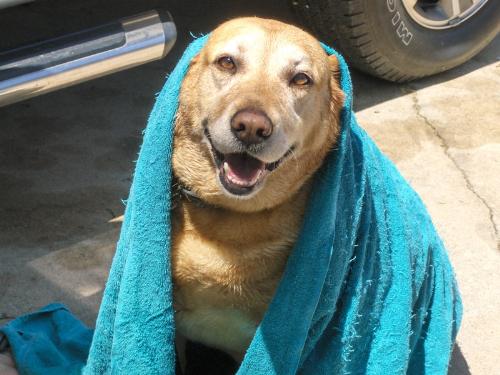 United States
May 18, 2009 3:41pm CST
Budder was our brand new in 2000. She lived a great life doing everything with us. She was 'one' of those dogs, the ones that only come a long in a great while. She was funny, and knew when we were laughing to go for the grins again and again. In 2004 we had her bred to a great Goose Dog and they had some beautiful puppies. Now I am so glad we kept to of them. She was spade and we were very responsible dog owners. My Husband trained her to be my service dog as I have Multiple sclerosis. She did it all, picking up things for me and standing strong and steady if I needed some balance. She lived every day to it's fullest and was a great inspiration to me. She became listless on a Monday we rushed her to the vet thinking vitamins or that she was getting older although only 9 years old. It was pancreatic cancer...she was gone in three days. We will miss her forever as we have our furkids as part and parcel to this wild and crazy family! How any out there remember their first dog or a special dog that was well...just special?
3 responses

• Philippines
20 May 09
I'm very sorry for your lost. Basing from what you've said, I do believe that she lived a great life with you and your family. She was your little helper :). I have nothing but admiration for dogs like your Budder. Dogs truly touches our lives more than we touch theirs. Condolences to your family.

• Chile
20 May 09
I´m sorry! I know what you are going through. I hope that your Budder will be running happily at a dog´s heaven with my Misty. Take care

• United States
18 May 09
I am so sorry you lost your friend, I'm sure replacing her will be very hard. Some pets are just so special you remember them your whole life. Blessing to you and your family