Customer Service - Creepy Old Men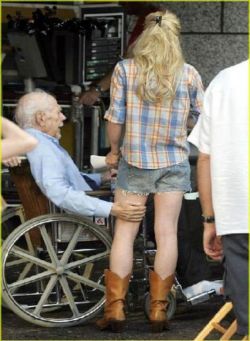 United States
May 18, 2009 8:42pm CST
I have worked in customer service since I started working when I was 14, I am now 19. I've dealt with my share of creepy old men. Do you work in customer service? How do you deal with creepy old men? I'm not talking about the sweet old guys who everyone thinks are cute and want to help. I'm talking about the guys that hit on you - even though you are a teenager or in your twenties and they are in their fifties or sixties. There is one guy who comes into the store where I work every Tuesday. He calls me his "actress girl with a pretty smile" because the first time he saw me he said I have a smile for movies. My manager is a very dense man in his fifties who is very kind and sweet and doesn't pick up on much and even he noticed how creepy things were getting. This man was quite obviously hitting on me and all I could do was smile and nod and do my best to get him out of the store as early as possible. He likes to talk so he sticks around quite a bit. I don't know what to do. It's not harassment so it's not like I need to go to my managers and tell them about. It's just creepy that's all. How do you suggest I deal with this? Have you dealt with creepy old men before?
4 responses

•
19 May 09
Hi crazyredhead, I can understand your problem. Not easy to remain polite in that kind of situation. Obviously you must not give them the slightest encouragement. I am an "old" man but I hope nobody thinks of me as creepy. I would never put a young lady in a difficult situation but I do like to be cheery and communicative without making personal remarks. Yesterday I was encouraged when I told my doctor that all her receptionists were so nice and helpful to me. She said "They are not like that to everyone. You are nice to them so they respond positively". Maybe you should exaggerate a bit with comments like "will you manage to find your way out or should I get someone to help you?" or "are you sure you should be coming here alone at your age?". Yes I know!. Pretty weak effort. Would it be possible to get one of your male colleagues to handle the creepy ones? I love the picture you posted. Pretty young ladies do have their problems. Hope you can get the issue resolved.

• United States
21 May 09
Being rude or sarcastic towards a customer is a sure way to get fired. These men who make these comments have boundary issues. They have to be told quite plainly and firmly to stop what they are doing because it is inappropriate and they need to respect all women.

• United States
23 May 09
I can't see myself saying things like that and it does seem rude. I try to be nice and smile like I always do but I tend to keep my supervisor close by when certain guys come into the store.

• United States
19 May 09
If I had to work the front I always asked my manager to assist in the front. The creepy old men are less likely to stick around if your mamnager is there. It's just something you have to deal with unfortunately. If all else fails say something that will throw them off guard shake them up a little bit it'll knock them off and they'll be suprised.

• United States
23 May 09
I work in the hardware department of a grocery/hardware store and my supervisor is typically pretty close to me. He's a very gentle and kind man who doesn't pick up on things so easy but when he does he just kind of minds his own until they leave and then says "that was getting a little weird huh?" so I usually end up calling back my more outgoing protective manager Pam.

• United States
21 May 09
You have to shut it down or it will not only continue it will escalate. I would suggest you just simply say, "I'm sure you mean no offense but this is my job and I am uncomfortable with your comments."

• United States
23 May 09
These men would probably just look at me and laugh if I were to say that. I've just begun keeping my manager Pam around. She's a very tough and outgoing woman and she is very protective of me.

• United States
23 May 09
You need to get into the habit of sticking up for yourself.

• United States
30 May 09
What happens when you are out someplace dressed in a sundress or a pair of shorts and one of them sees you and makes a comment or worse, gets touchy-feely?

• United States
19 May 09
I have found that most of the time people take compliments for something they arent. This is especially true of girls that are aged 18-22. Many times the men are just trying to be nice and complimenting you. They arent trying to hit on you. They want their day and your day to be pleasant, so they try to make it that way. The more you shy away from people like that, the more they will try to compliment you and get you to relax and just enjoy life. Smile at the guy every time you see him. Get to know him. Eventually you will probably realize that he is just a nice guy but you mistook what his intentions were.

• United States
19 May 09
No, really - I am talking creepy creepy that everybody picks up on. Not, "oh she's a nice girl creepy" but "I want to date her" creepy. This guy continues to tell me that he is looking for a younger girl to date because he doesn't want to be with someone who just wants to sit around all day and watch the grass grow. Another guy who comes in is constantly drunk - around Christmas he called me his "Mrs Clause" and now I'm "hot rod". I live in a small town - for some reason that seems to attract creepier old men.

• United States
20 May 09
I disagree with you. Of course there are inappropriate comments that people make. But two different people can say 'You look really nice today'. And the person who recieves the compliment can be freaked out by one person and not the other. How do you explain that? Why is it not appropriate for an older person to find a younger person attractive, but it is appropriate for a younger person to find an older person attractive? I have found that the main reason why most older people stick around places like that is because they simply want someone to talk to. They are lonely. Because you will be at work for quite a while they take that opportunity to talk. Of course there are some people that have crude intentions. But to think of people as 'Anyone could be a stalker or rapist or even a killer' as you said, is setting yourself up to be paranoid. You can also be friendly to a person and still make it clear that you have no interests in a romantic relationship or even a friendly relationship outside of work!

• United States
23 May 09
I'm not a pessimistic person by nature so to think of someone as a possible rapist or killer is not what I'm about. It's just that it's creepy that's all. Just the other day one guy went to a co-worker and held her hand and asked her what she thought of older men and when she said she had a boyfriend he said that he wasn't talking about cheating - just something on the side - and that he'd guide her through it. This was all at work, she had to call up a manager to get him to leave. It's just that they are so creepy, not harmful.