Do you scrapbook?

India
6 responses

• United States
20 May 09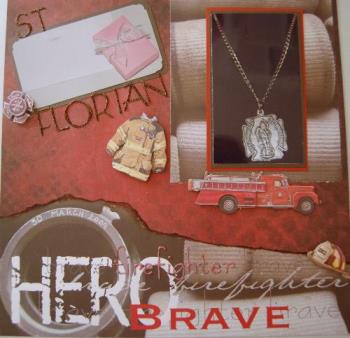 I've been scrapbooking for 4 years now. I have 7 12x12 albums, pretty much one for each year, one for my work, and one I did for my Christmas trip to Texas this past Christmas, I have several 8x8 albums, and I love doing the chipboard books. I love all the embellishments they have now and all the different cardstock. My daughter got into it shortly after I did, thanks to me lol, and she now has a cricut that I get to use. I love that. I've been to 3 scrapbook weekend retreats, they are so much fun, and we had a view of the ocean and beach. You might say I'm a scrapaholic!! lol

• India
20 May 09
I just love scrapbooking, much easier to appreciate all those pictures than when they're just in a shoebox hidden away! I've only been doing it a few years now, and there's so much more I want to do. Thanks for the Reply!!

• Philippines
20 May 09
that's what i love doing in my spare time. i love collecting pictures and make captions about them. i used stickers and stationery in my scrapbooks. my kid and i do that also in weekends. i teach him how to make one. he loves it too.

• India
20 May 09
Its such a great timepass activity that you never know how fastly the time passes by. Thanks for the Reply n Happy Mylotting!!

• India
21 May 09
I haven't started an offline scrapbook yet. But would love to have an online scrapbook. That sounds like so much fun. It's fun to look over photos from the past and remember the good times with family and friends. Often photos help us recapture or relive the good parts; while shrouding the not so happy times. Good memories are the best. My favorite activity is putting my photos online.

• United States
20 May 09
I am so excited that Micheal's has moved to my area. I have not been scrap booking since I move back to Ny. I could not find my scrap booking supplies in one place. I can't wait for them to open up so I can scarp book again. I also am starting a coin collection as well. So I hope they can help me with this as well. scrap booking is so relaxing.

• Malta
20 May 09
Scrapbooking is simply amazing. Its something you make yourself so you must appreciate more than other things that we easily buy. I have to catch up with my latest scrapbooking since i havent made any scrapbooking for the last 2 holidays I have been too. I bought scrapbooks from the countries where I have been but now i will need to start them. A few months already past but as soon as I will start them, I will bring back a lot of special & beautiful memories. I encourage those who havent made any scrapbooks to start doing them. Its good to keep it as a hobby as well.

• Thailand
20 May 09
yes, i do scrapbooks! and i also put in somethings that will remind me of the moments, like air tickets, a dried leaf, a flower or even a piece of papers with lots of childish doodles.. scrapbook, is like a historical books - personalized in a way that it takes you back in time. there you'll find yourself transfixed and savoring every bit of those wonderful memories! ah, the art of scrapbook making - surely its becoming a lost art!