Do you love the cats?

China
May 22, 2009 2:28pm CST
In my family there are a lovely cat.Its fur is very long and soft and it's black and white,so it looks very lovely.It has a pair of big eyes and the eyeballs look like the glass balls.In the day times,its eyes become a narrow line.At night,its eyes become bigger and look like green gems giving out green light.
2 responses

• Philippines
22 May 09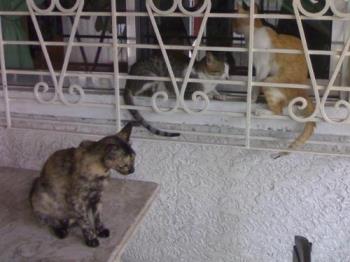 I think your cat is cute. I like cats too. I have here three cats and I talk to them always when I see them. Lolz! And they answering back at me. Dont know if they understand me what I mean. I attach here their picture. hehe! The two with white color are gay.

yes, Im telling the truth.

• United States
22 May 09
I do enjoy pet cats as they are very soft and intriguing. They are intriguing because of their mysterious ways and constant "on their term" pettings. They also like to follow you around for the most part and will "meow" whenever they are not being paid attention to and demand it! They are very loving creatures. Cats of all shapes and sizes and short and long fur are beautiful. They have feminine features but at the same time some cats have very masculine features that broadcasts them as being the gender they are, male!