Where do you sit your gas cap at, while pumping gas in your tank?

United States
May 24, 2009 9:44am CST
When you are pumping for gas at the gas station, where do you sit your gas cap at, while you are puming gas in your tank? I hear some people say that they sit their cap on the gas pump. And they may sit it on top of the car itself. Do you ever think to wonder that your cap could ever get lost or it can fall off somehow? Or maybe, someone can accidentally mistaken your gas cap for theirs? Yesterday, my husband was at the gas station and he left his cap on top of the car. And when he noticed that his cap was not on, he went back to search for it, but could not find it. Someone could have taken it by accident, or it could have been crushed by a car. Anything could have happened to it. Taking a cap off while pumping for gas can be quite risky. We can become easily distracted by anything, and the cap can fall off without us realizing it. I have heard from my husband that the new modeled cars have a better gas cap area. I believe this may help others out from misplacing their cap or losing it. What do you think?

Have you ever niticed your gas cap off when you was gone from the gas station? It is a blessing that Walmart sells replaceable gas caps for the gas tank.

9 responses


• United States
26 May 09
Yeah, mine had the little strap that is supposed to help you keep it close, but it's broken from sun rot from living in Arizona. I always lay it down on top of the trunk. It would maybe hang on a little longer of a car ride since we have a fin. I haven't ever left the gas cap, but I have on many occasions left the little door open. And...of course the whole world can tell. Lol

• United States
20 Jun 09
I normally keep it on top of the car. At least this is where I usually keep it when it comes to my husband's truck. As it has a shell it has a flat top to it, so I have the habit of putting the gas cap on top of it. With my current car it has a strap to keep the cap connected. Which can be both a blessing and a pain in the rear. Sure, there may be no chance of losing it while I fuel up, but it can get in the way of the pump making it a bit of a challenge. I guess anyway you look at it there is always a disadvantage wherever someone puts the cap. LOL

• India
1 Jun 09
Hello my friend cream97 Ji,
So nice of for sharing such a important and secured information. Thanks. May God bless You and have a great time.


• United States
27 May 09
My car has a slot to put the gas cap in when I am pumping the gas.

• United States
26 May 09
Before I got this truck, I would place it on top of the gas pump. Now, my gas cap is attached to the vehicle by a piece of rubber tubing, so I don't ever lose it. It's great becaue the door to the tank won't shut with it open, so there is less of a chance of me driving off with the tank open. Also with it attached, there is no chance of losing it!

• United States
25 May 09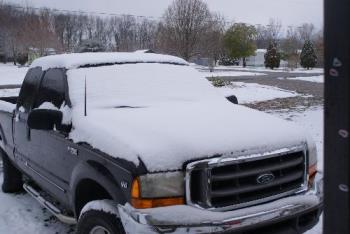 My gas cap is attached to the truck by some rubber thingy. I have seen where other had left their gas cap on top of their car and driving down the road and have seen them sitting on the pumps too. When I'm in a car that does not hold onto the cap for me then I hold it myself or I might be one of those you'd see driving down the road with it on top of my car.


• United States
25 May 09
My gas camp is attached to the car so whenever I open the tank the cap just hangs there. I never have to worry about sitting it anywhere because it's always attached to the car so I never worry about losing it. Which, is a good thing because I've been frazzled before and if it wasn't right there, I'm sure it would have ended up forgotten somewhere.

• United States
24 May 09
i don't drive,but my brother does-i think his has some kind of chain on it,so it falls to the side while gassing up. his old car,he did lose it a couple of times.he'd put it on the trunk and forget all about it


• United States
24 May 09
The car I have now has the gas cap attached so that wont happen. I have had it happen on older cars where I put the cap on the top of the car or on the trunk and then drove off only to lose it as it flew away! I think whoever thought about attaching them is making a lot of money right now.