summer activities for the family on a budget

Canada
May 24, 2009 4:33pm CST
hello all, does anyone out there have any ideas on what one can do over this summer for entertainment on a budget. i would like to create a resource for people to visit to give them ideas what they can do. i have been mulling this over, as in this current harsh economic climate, i am sure that no one really wants to be cooped up in the house over the fleeting summer, simply because they cannot afford to go anywhere. my staple favorite is the beach, any one of the beaches from woodbine to lakeshore, as it is free to go there and you can also take a picnic too instead of buying the overpriced food out there. there is also play parks for the children and you can take your cooler box filled with beverages for your company. i would be happy to hear form anyone else out there how you beat the summer financial blues
10 responses

• United States
24 May 09
Here where I live we have many free parks. Every summer there are reenactments of both the civil war and the revolutionary wars. One park has a time when the native Indians will do an education thing. Every little town also has some kind of festival going on too. There are also free gardens to visit. check with your Chamber of commerce too. They should have a list of activities and events that are going on in your area.

• Canada
26 May 09
thank you i will give that a go and see what i can find out.

• United States
24 May 09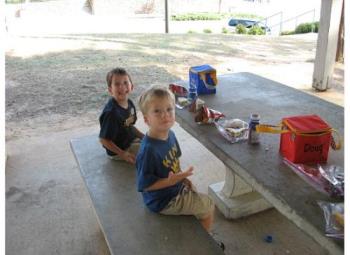 A lot of this is going to depend on where you are, country wise. Here in the states we have so much that is free, free concerts in the park, free family movie night in the park, we even have free movies at the theater every Thursday, (last years movies, but hey they are kids what do they know) as well as so much more, as you said a day in the park with a picnic. I take my own food every where we go, so much cheaper and well I know what is in the food they will be eating etc. Also check out free days at museums, zoos etc. I know the city of Chicago has many museums that have free days every week. Say the Science Museum is free every Tuesday. You will have to do some of your own homework for this.. sorry check out library's, they have story hour every week, then you can also have art projects listed as well.

• Canada
26 May 09
sorry i forgot to mention that i live in toronto, canada

• United States
26 May 09
We are lucky, we live in the Mountains in the East. So there are trails to hike and bike. We go fishing. Our best resourse is our State Parks. We can camp, swim, fish, hike, and play. We all enjoy this. We are also not to far from the ocean. We stay at the state parks and we save hundreds in hotel bills. Otherwise we would never get to go. We usually do alot of short trips all summer rather than just one big one. We spend the colder months planning new places to go in the summer. This gives everyone a voice.

• China
26 May 09
Yes, we should go out to enjoy the nature even though this harsh economic climate. Next month is the first wedding anniversary of my wife and mine. We plan to go a scenic resort to enjoy blue sky, beach and delicious food. We look forward to that day coming!

• United States
26 May 09
You should take up hiking on different trails. Also, my kids enjoy geotracking or letterboxing. Both can be looked up on the internet. Geotracking involves finding things buried in all different locations and it's like a scavenger hunt while letterboxing involves getting your journal stamped from all different hidden stamps also located all over the world and many in each different city in the U.S.

• Philippines
25 May 09
I would like to go with my family to some very nice places but I just don't have the money for it. Cheers!!

• United Kingdom
25 May 09
It depends where the family lives. I live just four miles from the sea. So children in my area could have a day at the beach digging in the sand and making sand castles. On the wild looking beach they could make a house out of drift wood on the beach. They could have a walk in the woods and have a teddy bears picnic perhaps. They could go to a playground and go on the slide, swings as well as the roundabout. In other locations there might be free entry at a museum or art gallery. There might be a lake to go swimming in. It might be possible to borrow some dogs to take for a walk. It is often great fun to have a picnic in a quiet spot. Some children enjoy climbing trees. Going to the library will give children some books to enjoy reading. I would be good to collect some large cardboard boxes that a supermarket is throwing out. In the garden the children could make a boat and let their imagination take over.

• United States
25 May 09
It really depends on where you live, but it is easy to make something fun out of most anything. Especially with younger children, because you can make a trip to the library seem just as exciting as a trip to Six Flags. I like to keep an eye on the paper and see if there is anything interesting going on. Also, if you have young children see if there is a Parents As Teachers program in your area. They do home visits during the school year and give your child free books, but there are also some neat stuff going on during the summer too. And you can take older children with you. I took my children to a 'things that go' day. There were police cars, firetrucks, one of those electric trucks with a bucket for the children to ride up in! My children thought it was great fun! We also make it a point to sign up for the library's summer reading program. And sometimes we apply for a scholarship at the YMCA. Also, check with local churches because sometimes they have stuff for the community to do for free. There is a church near me that has a bowling ally in it and another church has a gym in it as well. Also, many theaters are doing free movies during the summer for families with young children. It's a chance to get out of the heat and break up the day. The movies aren't that new so you don't have to worry about desturbing other people with your loud and rambunctious children. Haha.

• United States
25 May 09
Check your local newspaper or city council website. Many summer activities are listed there and most of them are free of charge. You might find a nice concert under the stars which the family might enjoy. We always head for the beach, which is easy since we are so close or we might rent a movie and have a movie night out on the patio with microwave popcorn and other movie munchies. We also like to go hiking or camping overnight. A nice bike ride through a park is also nice. There's a lot you can do with little if any money. Have a safe, fun summer!

• United States
24 May 09
My kids are teenagers now so it's been a while since we've done this, but down here they have low cost movies once a week. When I was a kid, I think they called it the "summer movie club" I don't know what it's called now. I don't know the cost, but I'm pretty sure it was less than the regular price. As you mentioned, the beach and parks are good too. Investing in a wading pool or a sprinkler for the back yard can help out with a few hours of fun in your own back yard. Depending on your children you can do some cooking with them. That would be a good way to keep them busy and make something yummy to eat at the same time. You could take them on a neighborhood adventure of some kind...Picking flours or spotting different types of birds...Of course your children would have to be young enough to actually think stuff like that is fun.