check out this Ferrari photo image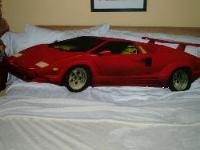 United States
August 27, 2006 1:29pm CST
this is a photo of the Ferrari image i'm trying to value. what do you think it's worth?
9 responses

• United States
8 Dec 06
I'm not sure, but it looks nice. I would start by logging onto Ebay and trying to locate a similar item! If that doesn't work, I would go to this yahoo group and post it for an item to trade. You might be surprised at what someone might want to give you for it in a trade. Are you trying to sell it? How much did you pay for it? Is it a remote control car or just a model?http://finance.groups.yahoo.com/group/milliondollarexperiment/

• United States
8 Dec 06
This Image is pretty big, over 5 feet long and 1-½ feet high weighing about 30 lbs. And is encased in a thick, plastic lamination. If you have, or would like to have, one of these cars you should probably have this image. I paid about $500 for it about 15 years ago. when I inquired about it on sites that did lamination they said it would cost that much to laminate something that big. LM


• India
3 Oct 06
its a red lamborghini countach and not even a ferrari......

• United States
4 Sep 06
Is this Ferrari? It looks like lamborgini(not sure on spelling) I like it. It looks cute on the bed.

• United States
4 Sep 06
It's a Lamborghini Countach.