The Dawn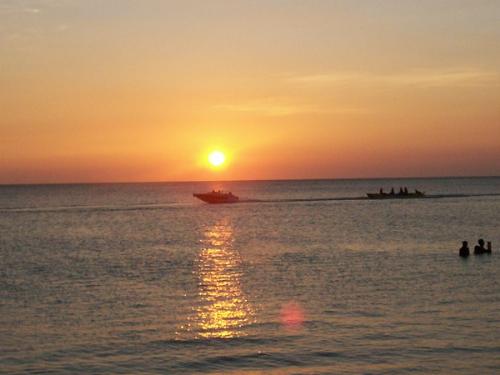 Philippines
June 1, 2009 3:33pm CST
My student and I got to the topic on sunrise and sunset and which do we prefer. I've always been for sunsets because it is so vibrant. Besides, I rarely get to see sunrise because I would have been asleep for an hour or two before that happens. The dawn though is very symbolic - new beginnings. How about you? Which one do you prefer? Sunrise or sunset? When was the last time that you got to witness sunrise?



5 responses

• Philippines
2 Jun 09
I prefer sunrise rather than sunset. Seeing the sun rising in the morning gives me hope for a new beginning. A new day that God has given me. Sunset gives me a sense that its going to be dark in just a minute or so. I always feel sad but on the other hand, the scenery of seeing the sun set is very exciting.

•
2 Jun 09
i love both but prefer the sunset, I do see the sunrise in the morning frequently mainly as I am up til early morning on here, it is lovely and as you say the symbol of new beginning, but the sunset to me is more astounding watching it slowly go down and the different colours you can see, LoLo

•
1 Jun 09
Hi diytay, I get to see both, why? well I see the set everyday and because I am on ther computer till the early hours of the morning, I get to see the sun rise, it is quite beautiful, one I see it and the sun come steaming through, then I got to bed, see I don't miss either of them. Tamara

• Spain
1 Jun 09
Some years ago, I worked as a catering supervisor at an airport and I started at 5.00am, so I often saw the sun rise. I was never particularly impressed, as it was such a gradual thing, and it wasn't a beginning for me, because I almost always got up in the dark, and was hard at work at sunrise. I love the colours of a sunset. It's nature in all its glory, and it always takes my breath away, no matter how many times I witness it.

• Romania
1 Jun 09
Sunrise definitely! I actually find sunsets kind of depressing... Sunsets mean the night is about to come and I hate it when I have to go to bed... It's just something about the night a certain depressing energy that I don't like. And sunsets just seem too... peaceful... I can't explain, but they just symbolize the end of the day and I don't like to think about it, because I alwayas feel like I still have so many things to do that day lol I don't know if it makes any sense... Sunrises though represent new beginnings to me. They are very refreshing, energizing! It means a new day has started, a new chance for me to get closer to my goals and it gives me hope to believe that great things are going to happen the rest of the day. I haven't seen a sunrise since... last year I guess... :D I love them but I never get the chance to see them cause I get up at about 8 am so I miss them all the time... The last time I've seen it was at the beach and I had to put 10 alarms on my phone to make sure I wake up :D but it was worth it! Watching the sunrise while walking on the beach, through the water... that's a great feeling...