Everyone believes in something. What or in whom do you believe?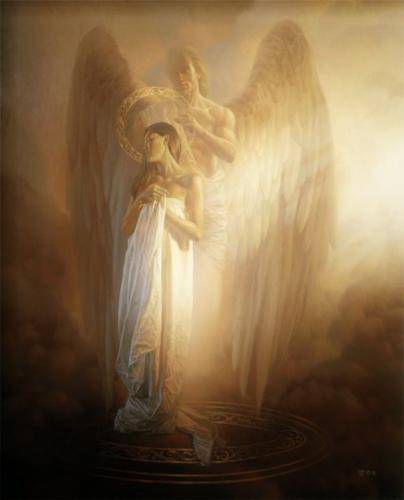 United States
June 5, 2009 2:53am CST
Whatever one chooses to call Him, I believe in God. For me, nature has always been all the proof I have needed to believe that nothing was created by accident, but rather by great design. What or in whom do you believe? God? A higher power? Yourself? Angels and demons? A hero or mentor? People? Do share. Karen
6 responses

• India
6 Jun 09

Hello my friend PeacefulWmn9 Ji,
I am blind believer in God. I am God fearing. All those who do not believe, I would not like to waste my time to explain the exixtance. As I am sure, they would understand, before they breath out last. For more pleas log on:- http://www.everystudent.com/features/isthere.html [b]"1. Does God exist? The complexity of our planet points to a deliberate Designer who not only created our universe, but sustains it today. Many examples showing God's design could be given, possibly with no end. But here are a few:The Earth...its size is perfect. The Earth's size and corresponding gravity holds a thin layer of mostly nitrogen and oxygen gases, only extending about 50 miles above the Earth's surface. If Earth were smaller, an atmosphere would be impossible, like the planet Mercury. If Earth were larger, its atmosphere would contain free hydrogen, like Jupiter.3 Earth is the only known planet equipped with an atmosphere of the right mixture of gases to sustain plant, animal and human life. The Earth is located the right distance from the sun. Consider the temperature swings we encounter, roughly -30 degrees to +120 degrees. If the Earth were any further away from the sun, we would all freeze. Any closer and we would burn up. Even a fractional variance in the Earth's position to the sun would make life on Earth impossible. The Earth remains this perfect distance from the sun while it rotates around the sun at a speed of nearly 67,000 mph. It is also rotating on its axis, allowing the entire surface of the Earth to be properly warmed and cooled every day. And our moon is the perfect size and distance from the Earth for its gravitational pull. The moon creates important ocean tides and movement so ocean waters do not stagnate, and yet our massive oceans are restrained from spilling over across the continents."[/b]May God bless You and have a great time.


• United States
6 Jun 09
I understand the concepts, but not with the wonderful detail in which you've explained them, so thank you for that. Like you, there is so much evidence that points to people, planet, and the universe being created and sustained by design, and nothing accidental or evolutionary. : ) Karen

• India
6 Jun 09
Hello my friend PeacefulWmn9 Ji,
Those who believe in existance of Almighty, do not have to go on proving. It is only other people think and try and prove it. They are all selfish, unsatisfied, disperated people do not want to do any natural work/duty. May God bless You and have a great time.


• United States
6 Jun 09
Like you, I have reached a point where I am extremely sure in my own faith in God and do not try to explain it in detail to others. We each come to him in our own time, but he is always there, always. Thank you so much for sharing your personal insights. Have a blessed day. Karen


• United States
12 Oct 09
I believe in God whole-heartedly! There is never question in my mind that He exists, that He created all, and that He sent His one and only Son to die for me so that I may have ever-lasting life. I also believe in Angels. We all have an angel with us at all times. Even if we are unaware of his/her existance and can not see them!

• United States
13 Oct 09

Hi Tonika. Yay! I also believe in God--the trinity--and angels. I have never been able to understand how anyone who looks about at all that is in nature, at how intricately the workings of the universe continue, and how wonderfully and beautifully we human beings are made--and NOT believe in God.

Karen

• Philippines
10 Jul 09
I believe in God and even thought I have not yet seen God. I do believe looking at the surrounding around us. I realize that something more intelligent human and maybe not human can create this amazing world. Present of living and non-living things are perfectly creation. I love the balance of colors, the style of the figures of humans, animals, plants and even the formation of rocks and beaches. Perfectly mould to fit in as a natural source of habitat of every kinds of species. This wonderful works cannot be be equal by any human abilities even combining the power resources of the rich. The mystery of life is wonderful. I do believe in angels but have not met one yet. But, angels for me are like us humans who is gentle, kind and know to share her blessing to the less unfortunate. I do believe also in goodness and evil that separates between the two. A hero is someone who make the life of other people easy, someone who save lives and a good adviser who set good examples. starting from parents, teachers and noble men and women that gives inspiration.

• United States
10 Jul 09

Hello Neelian. How very well you express your beliefs and your reasons for having them. I am like you in many ways. I believe in angels and God, too, though I have not seen either with my own eyes, yet. I can see the evidence of their existence all around me every day. And that is at the heart of faith--believing in what the eye cannot see. Thank you for sharing such beautiful insights.

Karen

• Philippines
11 Jun 09
I believe mostly in the things that are unseen, because FAITH is never seen. I believe in the power of love, kindness, God's magnificence, compassion and world peace for all..

We may not see these things but we feel it and we long for it.. The fact that we long for it means it exists.. =D

• United States
11 Jun 09
Your beliefs are in things that are strong, loving, and beautiful. And yes, our faith rests in things we cannot see but that we know are there anyway. Thank you for adding your insight : ) Karen

• United States
6 Jun 09
I believe in energy, not some superior being who watches over my every thought, word or deed. I think the energy is within us all and only needs to be noticed by our minds to be accessed. I think we are a maturing species and will eventually evolve into a purely spiritual one. Because I believe that the energy is love I do think we will survive in some form.

• United States
6 Jun 09
I, too, believe we go on in some form, that we are more than just physical or psychological, but also "spirit"...or what you call energy. I always appreciate your particul view on things, Pat. Karen

• Indonesia
5 Jun 09
I believe in God the Almighty who created and keep me. As for people, I believe in my mom and my husband, I think as the people who love me, they would not do anything to harm me


• United States
5 Jun 09
These are all very good things/people to believe in. This kind of love and faith can sustain you in good times and bad, and I am happy that you have that :) Karen