Unexpected birthday gift!

Chile
June 7, 2009 7:32pm CST
I have been feeling depressed lately so I decided not to do anything for my birthday (tomorrow). But my brother invited me today to the ballet, an out of this world gift as I couldn´t posibly pay for it. It so happens that some soloists from the Bolshoi and Kirov ballet were brought here for some performances. So I´m just back from an evening of magic, music and art. My brother does this type of sweet things once in a while. He invited me two years ago to the Cirque du Soleil. In both ocations it was in the best seats and I could enjouy it absolutly. Do you have a caring family that cuddles you when you are down? Share please
6 responses

• United States
8 Jun 09
First of all I would like to say Happy Birthday to you. It is cool that your brother took you to the ballet. Did it lift your spirits at all. I am sure that it did. I have never been to a ballet but I would like to go someday. I am sure that it will be quite an experience.

• United States
8 Jun 09
HAPPY BIRTHDAY TOMORROW. How lucky u are to have such a caring brother.I'm so glad he invited u & so glad u enjoye it. no, i don't have anyone in my family like that, not even my sons are that caring. Have a great day tomorrow.

• Australia
8 Jun 09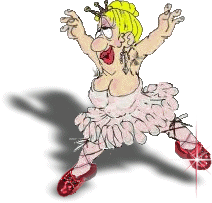 Oh he is a good brother, what a wonderful gift, I am so glad he has lifted you up from being depressed, I think just the thought, the love behind that present is wonderful, I hope you have a lovely birthday..you look after that brother of yours, he is a treasure.

• United States
8 Jun 09
Not really. My family tries to tell me what to do rather then support. Glad you got to go to the ballet. I am not a fan, but it's cool that your brother was there for you and did something for you that you wouldn't normally be able to do. And, Happy Birthday

• United States
8 Jun 09
Happy Birthday tomorrow! The world is a better place because you are here! I've been once to a ballet and it was wonderful. I'm glad your brother treated you, that was really nice. Maybe you could do something with that friend you had dinner with tomorrow. Even if it's just ice cream, I hope you don't spend the day alone. If I see an orange glow on the souther horizon, I'll know that some one lit your birthday candles...lol. Just joking. Please have a nice day tomorrow and treat yourself kindly.

• United States
8 Jun 09
You are very lucky to have such a sweet brother ! I would love to have him as my brother . I'm glad you had a good time , and I hope you have a great birthday !

• Chile
25 Jun 09
Thank you so much for your caring words! And Catdla, I did have a birthday anyway. My daughters came witjh everything, from ready made sandwichs to a birthday cake. The grandchildren brought me presents. The best was a horrible pillow made by my 8 year old granson. I have it proudly on the bed, and it is a conversation piece just as other presents I cherish from the time my own children were little. The common things about the is that they are hideous and that they were given with the utmost love. So they have a place in my heart and home. I did not accept a candle blowing. I said that when I got over this depression I would do a birthday but would only blow the quantity of candles I felt I had in years.


• United States
12 Jun 09
Hi marguicha and Happy Belated Birthday. Wow, I guess that was a nice gift. Although I have never been to the ballet it is something I have always wanted to do with my oldest grandaughter. She just loves to watch it on TV and would have taken it up but her ankles and knees were to weak for her to be able to do pointe. Sounds like you have a very wonderful brother that likes to spoil his sister but not to much...hope you had an amazing time!!! flutterby