The last you have been to a swimming pool

India
6 responses

• United States
8 Jun 09
During the summer, I'm almost always hanging out at the pool. I'm not a swimmer, but I love the pool.

• Malaysia
29 Jun 09
Hot, hot, hot!! The weather here is very hot today!! I'm sweating at home even I just sit down in front of my computer only. If there is a swimming pool near my place, I will definitely go for a cool swim. I love swimming. But I have quite sometime didn't go to swimming pool. I hope I can go for swimming again in the future. Hurray!!

• United States
14 Jun 09
We have a pool in our community so the kids go every day sometimes twice a day. I try to go once or twice each week. It's hard because I am tired when I get home from work and need to be motivated to go to the pool. The water is nice and warm now.

• United States
10 Jun 09
I have been swimming quite a bit already this year. That is mainly because I was living somewhere with an indoor pool until the end of March. Now that I am back up North, I have only been swimming once. That was on Memorial Day when I went to a friend's house who has a heated pool. We are supposed to go again this weekend, but I am sure no one will swim except for me if it doesn't warm up a bit. Maybe I should check the weather and see what it is supposed to be like.


• United States
9 Jun 09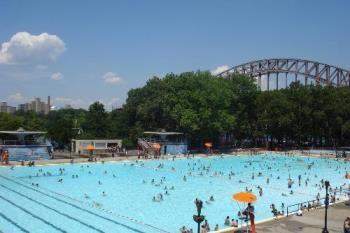 I can swim a little but I love the summer so I can go to the pool I love to swim and relax in the pool the last time I was at the pool was last year.