My Blog Is Hitting Again!!!What About Yours??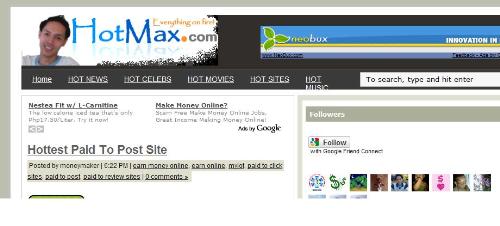 Philippines
June 8, 2009 11:51pm CST
I been out for quite sometime and been very busy with my job. I was not able to make any articles on my blog. I have lost lots of visitors. When I became active here in mylot, again I gain visitors in the site especially when I made an article about the google adsense earnings. I am so thankful to the people here who is exerting effort to visit my site. I hope that the site will be helpful to you or will give you accurate information on things you want to know. What about you guys? When was the last time you have updated your blog? What is the status of your site? Fell free to visit my site. Hope you will like it guys. Happy mylotting!!!Have a great day!!


9 responses

• Philippines
10 Jun 09
congratulations that your being successful in what your doing, i hope i will have site that will be like yours. Anyways, thank you also for helping me out. I was looking forward to earn more, now that i dont know what will happen in my work few days from now, what i learned from you will be a great help.

• United States
9 Jun 09
I have not update my blog because I do not know what a blog is or what does it do. It sounds interesting and something that I might like to do. Could you direct me to the right path to get me started? I am always interested in new things to do on the internest, being that I have been spending alot of time on here lately. Especially if it generates inccome.. LOL. I think all could use a little extra income.

• Singapore
9 Jun 09
My two blogs are still new. One is just a month old, and the other is four months old. At this stage, I have to update regularly for the search engines to notice the blogs. Can't possible miss update for more than a week. I try to update at regular interval of at least once a week.

• Philippines
9 Jun 09
good thing that your blog is being revived. it's true that sometimes blogging takes much of our time and maybe we could be too busy and not write on it for a time.. my blog used to have a PR 3 but then it got to zero for a reason i dont know yet, and now it is reviving to PR2. i would like to visit your site. where's your link though?

• Philippines
9 Jun 09
Well your blog is good my friend. I have joined is a follower. The important thing about blogging is updating.. of course you also have to consider the topics that you write there. Well anyway, I do hope that you will continue to have more hits on your blog.


• Philippines
9 Jun 09
The last time i posted something in my blog was yesterday. Im an active blogger and its a great feeling when people go to your site and appreciate your contents! I think im doing pretty well with my blog since i have a pr1 already and alexa n0.2 (its different from the overall ranking). Forums like mylot help bloggers to acquire visitors to their blog and site. So stay active in forums and you can possibly create a community of your own.



• United States
9 Jun 09
You mean you can get oaid to blog on mylot ? hmm never knew that , I mean I saw the tab but never really thought about it , can you tll me more on how to get started , I really like this idea! ~M~