Enjoy life, enjoy what you have. Agree or disagree?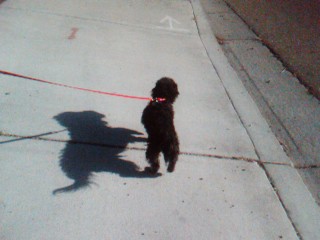 United States
June 9, 2009 2:49pm CST
I believe that in order to enjoy life one must enjoy first what we have and what we can do with what I have, it is enjoying today instead of waiting for tomorrow or regretting the past. I wonder how many agree with me. Do you agree in enjoying what you have? Or you are waiting for the day that you will have what you want to have?
10 responses

• United States
9 Jun 09
I believe it is important to be content with what we have. If we can not appreciate what is here and now, how do we expect to appreciate anything else. When will be know we have "it", the thing that will make us happy. The point is that having a thing will not make you happy. Make your own happiness and then you will be happy with a little or with a lot.

• United States
10 Jun 09
I certainly think it is ok to want something that we don't have. But when we can't be happy or enjoy our day because we don't have that "something" then we have crossed a line. I want a new floor in my living room, current one is in disrepair. But I'm not going to be miserable or unhappy until I get the new floor. I'll work with what I have until the improvement can be made.

• Australia
29 Sep 09
Hey, I would have to agree with you their, I think that many people too often are never happy with what they have, and I actually think that it is a huge mistake that they are doing. So far, I am quite satisfied with what I have. Make sure you have a good day, God bless and Happy Lotting!!




• Philippines
10 Jun 09
I highly agree. If we're not contented with what with have, we usually complain and complaining is not about enjoying and life shouldn't be that way. Contentment plays an important role in enjoying life. It's like me and my phone. My phone is really really old but i am happy with it and i am enjoying. I like it's features and i keep telling myself that even new ones won't stand a chance. Of course, it's my contentment talking right?

• United States
11 Jun 09
You are right, I used to like my old phone a lot, till that fateful day that I lost it, and there are things that that cell phone had that no other cell has till today, kinda weird, right, so you could be right about your old cell phone. I like my new one because it has a camera, so I am happy with the one that I have.

• Philippines
26 Jun 09
we are human, we cant be completely happy. We have bad and good attitude, we can be angels all the time, sometimes we show how evil we are. We smile, but we also cry after. This are all part of being a human, you can be happy now but you will weep tomorrow. The most important is to enjoy the present, because we only have today. We dont know what will happen tomorrow. Smile today and dont worry if your gunna be smiling next day again. Love life, god gave it to us and he will take it once after our times come. happy mylotting and smile always

• United States
26 Jun 09
You are very right. I was not saying to be smiling all the time but to be more or less content with what we have, it is ok to want more, btw, it just a waste of time to me to hate the today while waiting for something we do not have. Thanks for sharing



• China
11 Jun 09
Absolutely agree! There are always something we want but can't get even in all life. If we feel unhappy just because these, we can't enjoy our lives. I think most of people know this but occasionally we can't observe it. It's normal that people feel depressed and unhappy. What we can do is controling our emotion and trying our best to make ourselves happier. One who can accept what his/her has and enjoy everyday are most happiest one.

• United States
10 Jun 09
I am sort of happy with my life at the moment but a few things are majorly not working for me and I am not sure if they will ever change. It is a bit of a conudrum. I think it is hard when things are not quite right yet you are afraid to change them. You could always end up in a worse situation than what you have right now, and in alot of ways my life now is better than it has been, so I will think about this situation and how I can improve it.

• United States
10 Jun 09
I agree with you, it is ok with improvement, I was just talking about enjoying what we have for the moment. A sort of a day at a time mentally, it is ok to work for better things but why have a miserable time while waiting for better things? I am nto sure if I am making sense.

•
9 Jun 09
I think it is important to enjoy the little things in life instead of wanting more all the time. I think the reason for most people being discontented is because they think that they should have more all the time. Much better to be content now -none of us know what is around the corner!