Will India make it to the semi-finals?

India
June 12, 2009 6:16pm CST
Now that India have gone down to West indies things have got little tougher for the defending champions Team India. India have to beat South africa and England in their remaining two games to ensure themselves a semi-final birth. England game might be easy but South africa won't be easy to beat and even england might prove to be a tough cookie if Kevin Pietersen gets going so Indian team would need to perform at its peak in these two games as a loss could end their campaign to defend the World Cup. What do you think will India make it to the semis or will it be heartbreak for the fans?
10 responses

• Guwahati, India
13 Jun 09
Now after SA have beaten WI a new calculation comes up. If in the match India lose to SA only ENGLAND would be left to play with. There if India could beat England with a huge margin I mean if the run rate goes higher than West INDies. there is a chance but SA have to beat England too and England beat west Indies. Its difficult for India and I do not see any chance this time.

• Jamaica
13 Jun 09
Yes if England beat us WI then there will be a chance for India but right now I want India to beat England. I am sorry to say that my two team India and WI is in this state but let the two best teams goes to the semi. I am routing for India to beat SA they and SL are the only unbeatable side right now. This world cup is surely excited even more than the 2007 one.


• India
14 Jun 09
I think on current form India will beat England. India will need to beat South africa to be assured of a place in semis. I think it will come down to net run rate, thats a likely possibility as well and India will need to win two tough games by good margin to keep their net run rate higher.

• Guwahati, India
14 Jun 09
Yes if India beat both the teams there is no question of defeating with a huge margin. Today is India's chance to show that they really won the previous version of this formate of the game.

• India
13 Jun 09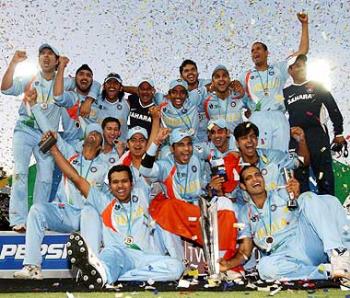 I think Indian chances look grim from here on ... the match against west indies was the easiest to win off the other two and we lost it. England is tough to beat in the home conditions and south africa will always be tough team to beat. India should really play out of their skins to do well from here... they can win both the remaining matches if they really want but they need to really up their level of performance. Its not easy to enter a tournament as favorites and live up to the reputation. I'll put some of the blame on loosing yesterdays match on dhoni coz he wasted too much deliveries to score his 11 runs... if we had an extra 20 runs the result could have been different. lets hope that the things will turn around in the next 2 games and we reach the semi final stage.

• Jamaica
13 Jun 09
Why should the game against the West Indies be the easiest one to win. We are more powerful then England. Did we scrape through to come to the Super 8 stage. You are disrespecting my team. Look at the team that beat England and you are putting England ahead of the West Indies this simple means you don't know cricket. India will beat England and South Africans. Never underestimate your opponents and this was what England did in the first round and was embarrassed. It feels good to be an underdog but yet it is the underdog that beat the defeating Champions having them going to the drawing table. It is the underdog that drive the nail in the Australian Coffin and the Sri Lankans closed it. It feels good to be an under dog real good.




• India
13 Jun 09
england might be tough to beat in their home conditions, and south africa is always a tough opponent, being the first game there was less pressure on indians to play against westindies, now we have to play under pressure, lests see how we perform under pressure. btw... dont make comments like "you dont know cricket" or " i'm disrespecting team india" i'm here just to discuss about what i feel about certain things, if you disagree you can say that but don't cross the line, lets have a peaceful environment. Please learn how to disagree with out being disagreeable which will be good for you in the future.

• India
14 Jun 09
Surely Dhoni is to be blamed, he didn't just waste deliveries but also added to the pressure on Yuvraj and coming batsmen. Another mistake was missing the run out of Bravo, had Bravo been run out the match would have surely gone right down to the last over. What about himself coming in at no. 3 at times when Raina has been in sublime form at no. 3. India will be able to beat England, its too much pressure right now on Kevin Pietersen as others in England team are not performing that good so i guess India should just take advantage and pile more pressure on Pietersen, he holds the key for England. If India wins against England which it will win most probably then the game against South Africa will be the toughest one so far.


• India
14 Jun 09
thanx for your prayers and we all are praying. Thats the craze of cricket in india, those who are not match buffs even they feel delighted when India succeeds. I hope your prayers come true and India eventually gets through to the semis.

• India
13 Jun 09
It is not necessary that india has to beat both south africa and england. Even if india loose to south africa, then also india can reach in semi finals. Think about this situation - South Africa wins all the matches and India beat England and England beat W.Indies, in this scenario also india can reach semi finals if they have better net run rate than England and west indies.

• India
14 Jun 09
Thats a possibilty but I think West indies will beat England as they are in form and England batsmen are struggling except Pietersen. But watever be the possibility i think it might eventually come down to net run rate so India will need to win big against Engalnd to keep higher run rate.

• India
13 Jun 09
it is going to be very difficult for us now.but remember we are still not out completely.winning both our matches would still GUARANTEE us a place in the semis.and yesterdays defeat was not a bad one...it was a veryclose game.so...yeah i still think we can do it

• India
14 Jun 09
Sure we are not out yet and with the kind of team we can win the remaining two matches and that will guarantee us a spot in semis most probably. Last game was a close one but too many mistakes were made in that game, we need to avoid that in the coming games to win.

•
13 Jun 09
I believe that it would be a very tough task to beat South Africa and England for most teams. India have the quality and temperament to do such a thing. I am a England fan, so I would prefer that India did not make it to the semi-finals

I will be watching both of the games today, I find it all very entertaining.

• India
14 Jun 09
I'm sorry to say but Engalnd won't be beating India, their only hope is Pietersen who can knock off any team. India is going to be tough for Engalnd to beat and after the last game they would be raring to make amends. Indian team is like a wounded tiger right now so beware England.

• India
13 Jun 09
Remember the last world cup 2007- twenty20, the same situation arised when India lose to New Zealand. The same England and the same South Africa. What a similarity! But this India have a tough time. I don't think India could do like the previous world cup. It is a critical stage , at India are now! If they can do it like previous world cup, then I am sure India are the champions once again!!

• India
14 Jun 09
Nice that you brouught that up, Engalnd were a lot stronger in the last world cup with Flintoff who's not with Engalnd this time around so they will struggle and it looks like India will win this one. But the game against South africa will be a real nail biter as South africa are looking at their peak so beating them won't be easy. I believe India have got it in them to repeat the history and go through to semis once again.

• India
13 Jun 09
It was dissappointing that they lost last night. They really should have won. But I still feel that they will make it to the semies. Their next two games are not going to be easy, but I am sure they will show some character and fight back. They will need to play the best they can and hope some of stronger teams loose a few. Lets see how they go. Hopefully we can have some good cricket in the next few days

• India
14 Jun 09
They will sure hell need to play at their best bcoz the teams they are about to face are not gonna be easy, its South africa rolling in mighty form and even England have got some good players. So its just that Indian team has to perform the way they have been doing for the past two years and so and the ley players need to come to form and play well as a team.

• Jamaica
13 Jun 09
Yes India will make it to the semi finals. Kevin Pietersen is overrated. As for England they have not gotten a good side to play so I wouldn't even think about them making it to the semis. India will beat England and South Africa. They and the W.I. will be leaving this zone into the semis. I don't see WI losing their next two match. They need one more win to go through.


• India
14 Jun 09
Nice to hear that from you, i thought you only see West indies but good to see those nice words coming from you, I too feel India will make it to the semis provided they beat South africa after England. West indies too have an edge over England, Just need to get through Pietersen. And Kevin Pietersen is not overrated, he is the second fastest to score 1000 runs in one day internationals, noone else from the current generation is even in the top 10, only Michael hussey comes close in top 20. He won them the 2005 Ashes against strong Australian side, it was only after his inclusion that English media could boast of a possible victory. He is the face of English cricket along with Flintoff so definitely rated high as he should be, he's still getting to terms with T20 but others forms of the game he's just been outstanding.