Have you lost your beloved pet dog?

Philippines
June 13, 2009 12:44am CST
When I was young, I had a bestfriend dog. She knew how to shake hands, jump, and obey few commands. She was sweet and loving too. Everytime I went home from school, she always met me outside and hugged me. She liked it when I touched her head and neck. But, one gloomy afternoon, When I arrived home, she was not able to greet me at the door. I asked myself, "Where might she possibly be?" My heart broke down when my parents told me my bestfriend dog died being run over by a car. She was playing and chasing a mouse. :-( I think, she's in heaven now. How bout you? Do have stories like this?
8 responses

• Denmark
15 Jun 09
I used to have two dogs, a big and a small one. My dad had to put them both to sleep at the same day because the big dog was so old and his legs didn't carry him any more, he didn't hear well and was over 18 years old. The small dog got sick and we couldn't treat him so as hard it was we lost two dogs at the same day. I helped my dad to put them to ground in our back yard. Now we have a big stone on top of their grave and sometimes I go and put some flowers in there.

• Philippines
16 Jun 09
Wow. That'a very old dog. Your dogs would be happy for the flowers.

• China
14 Jun 09
It is so pity.I also have the same feeling as you.I lost my dogfriend on the Children's day. I was bathed with teers. I miss her so much. Until today,I'm afriad to look after dogs.Because I am worried to loss them again. I have a dream. I hope I can own lots of dogs some day. I wil company them forever. I love dogs.

• Philippines
16 Jun 09
Did it happen a long time ago? It's time to move on my friend. Pet dogs are gifts given to accompany us in life. Hope your dreams will come true..

• China
17 Jun 09
Thank you for kindness. Past will not come again.I will treasure what I omn now and work hard for my dream

• India
14 Jun 09
Yeah !!! Its very painful !!! Well when I had a German Shepherd about 2 years ago !! When I was out of town for a week I left it by my friend !! But the next night he got stolen by some thugs !!! I felt very bad !! Since then I was so upset that I had no guts to buy a new one !! Well now I have a got a Doberman.....!!!

• Philippines
14 Jun 09
what? Hope your dog bit those thugs. i love German shepherd. I wish I had one but its expensive and I have little time to spend with the pet. You should be more careful with your Doberman now. hehe

• United States
13 Jun 09
After 16 years, our dog became very ill and we had to put him down. It was one of the hardest things to do. It's been 5 years and still to this day, I miss him greeting me at the door. I can't even think about getting another dog. He didn't do any cool tricks, he always seemed to get into trouble or make a mess, but he loved us and we loved him, that was enough. He was part of our family.


• Philippines
14 Jun 09
WOW, that's a very old dog. I think you are missing him now. You are missing a wonderful member of your family. Tricks are not important for me,as long as my pet is loving, kind, and caring.

•
13 Jun 09
Sorry for such an unfortunate happening. It sounds like she was a wonderful dog :) I've never had a pet dog but have always wanted one, but the one thing holding me back is the fact I become too attached too pets and am incredibly upset when they die. My guinea pig dying was upsetting enough and it only lived for 3 years and a half. I would just worry about the pet too much. I have friends who have pet dogs that I am incredibly attached to however and when it comes to their time to pass away I will likely be almost as upset as my friends.

• Philippines
14 Jun 09
yeah. She was a very wonderful dog. Im sorry too about your pet guinea pig. Good thing is we have nice memories with them.

• India
13 Jun 09
Ya prviously when I was a child I was in love of a dog named puppy..that was my pet dog as he always very near to me and I always care for him..But after going to hostel I have lefted him in a road and Finally I have losted her..That was very lovable to me but time has changed and now I have missed him.. what to do

• Philippines
14 Jun 09
Acceptance starts the healing. You can have a new beginning and have another pet. good luck to you.

• United States
13 Jun 09
We lost our dog Katie, 2 years ago and still feels like yesterday. I am amazed at how pets become part of the family and your mourn for them. I believe that Katie is in heaven watching over us.

• Philippines
14 Jun 09
you are right. They become part of the family which makes it painful when they're gone.

• United States
20 Jun 09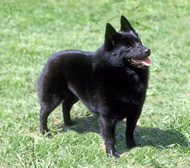 When I was a child I had a special dog named Skipper. He was a Schipperke. We were inseperable. He became very aggressive though. He would bite anyone that got close to me. My grandparents couldn't discipline me and he bit a coouple of neighbors. While I was at school my grandfather took him away..he told me a run away but I really know better..and I was devastated. I hadn't had another one that I got attached until now. Just two years ago I got a teacup Chihuahua..then another one...I have let myself get attached and now I love them too. I had forgotten what it was like to have a pet I cared for fo much. I'm havinf a great time with them...oh here is a pic of a Schipperke.

• Philippines
20 Jun 09
Wow. Schipperke is such a cute dog. Too sad, they took him away. It's nice to hear that you are enjoying the company of your two pet dogs now.. take care of them and don't let them bite your neighbors. LOL