This is something that I found on Ellen twitter's, can you share it too?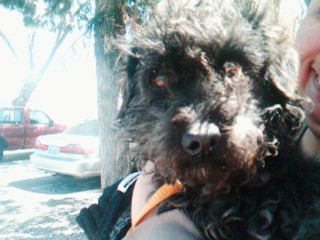 United States
June 14, 2009 7:00pm CST
Important: Tell Gov. Arnold not to limit time animals are kept in shelters from 6 days to 3. Email him: http://www.gov.ca.gov Pass it on. I passed it on, and found this answer from Gov. Arnold: We are eliminating funding but shelters determine time before euthanization. I feel that there are things he can do, he can influence the people on charge of the shelters to extend more time for these pets to find a family and home. I believe that it will generate more money to wait than to just put the poor animals to sleep, they should do more adopt a pet week, and other things to let the public know what kind of pets do they have. Anyways, will you share this too?
4 responses

• United States
15 Jun 09
With the problems that CA is having with money I do not feel that they should be spending on anything that does not create jobs. I agree that it is not fair for the animals to be put down, but if the people of the state are having to choose between feeding their pets and feeding their childen then there is a bigger issue at hand. Right now food banks are becomming empty due to the fact that many people cannot feed their families and those that can are not able to donate to them. It might sound harsh on my part but right now I think that the tax payer's money should be spent saving the people by creating jobs not by saving animals. I think that by creating new jobs the animal issue will heal naturally becuase people will no longer need to dump their pets, instead they will be able to feed them too.


• United States
15 Jun 09
I understand what you're saying. I hope too for a better solution, I know where I live there was a week for adoptions, and that it went well. I adopted my dog after that due to transportation problems (I do not drive, and needed a ride). (I like your avatar, adorable dog

)


• United States
15 Jun 09
It has everything to do with the amount of food needed to properly feed the amount of animals that are entering the shelters right now. The state cannot afford to feed them all. When the cheapest 50 pound bag of dog food is around 15 bucks and you need 4 or 5 bags a day to feed just the dogs, then you have to pay the employees, and all of the regular bills, it just is not cost effective for a state that is already having money issues to pay for. Sad but true.

• United States
15 Jun 09
Here is my email to Arnold: [b]While I realize fully that the state is in some serious budget woes, I cannot see the reasoning behind cutting down the amount of a time an animal remains in the animal shelter before being put to sleep. Not only does this seem incredibly cruel, I can't see where it saves the state any real money either. For me, if the states politicians really wanted to help the state out of it's budget woes, they'd donate at least half of their salaries back to the state. Now, that would amount to some serious money! Please, don't take human beings inability to deal with money out on poor, defenseless animals.[/b]

• United States
15 Jun 09
It is expensive, to some extent, okkidokitokki. But, we pay the idiots in Sacremento a heck of a lot more than that and yet we keep them around even when they screw things up. Maybe we could put the politicians to sleep and save a ton of money


• Puerto Rico
15 Jun 09
Thank you for letting me know. I sent him a message I hope it helps in some way. How can he think its ok to give them only 3 days in a shelter. Unbelievable and heartless is all I can say.

• United States
15 Jun 09
Hey Shelly~It breaks my heart to hear this! I hate Arnold to begin with and this makes me only hate him more! If Ellen can't get him to listen then who can? How dare they place a 3 day time limit on an animal's life! Damn them! I just can't even think about how cruel this is! I can barely even respond to this discussion because I am crying right now! I would adopt every single animal in the shelter if I could and you know that I mean it and I know that there are alot of other mylotters here who would join me too if they could! I am writing to him right now and I am not sparing any expletives!