does this look like a room???????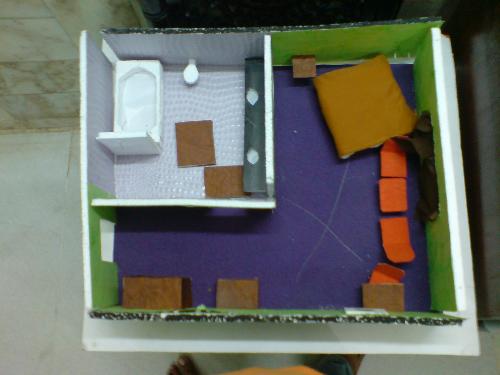 India
June 15, 2009 1:38pm CST
guys this was my final assignment i had to make a hotel room model.....i had made this and my lecturer just gave me 1 out of 5.....isn't that unfair.....how much would you give.....i know it is a bit broken.....but it was in good condition when i had shown this....
7 responses

• United States
16 Jun 09
did not your instructor critic your room? he should have. From the rooms that I have stayed in, in cheaper hotels the bath room you have has some wasted space. Is that larger piece of furniture a bed or a table? My suggestion is to move that one empty wall in the bathroom in to make more room in the bedroom.

• India
19 Jun 09
yes she criticized me a lot and no it is mandatory that the bathroom should be 1/4 of the total room......and hence it is looking so big......thank you for sharing....

• United States
19 Jun 09
It looks like a room. It doesn't look like all the space was used in the best way. Maybe that is just the picture. It is a bit small.

• United States
16 Jun 09
Hmm...the room seems a little strange to me, but it's really hard to tell what some things are because the picture is hard to see them. Like, what is the silver thing on the left of the bathroom wall? And what are the brown things in the bathroom? Are they carpets? Also, what is on the wall on the right hand side that's sticking out? Again, I can't tell. And the orange things on the floor? I agree with the spacing issue as well. The bed is cluttered into a corner. Not only is it turned at a weird angle (should be flat against something, generally), but it looks like either queen or king size (maybe full?) which implies that it was meant for two people. Having it crowded into a corner means it isn't too functional because it would be hard for two people to get in and out of without one person having to climb over the other half of the bed, which can be really inconvenient if they have to get up in the middle of the night or something. I also can't really tell what the other brown furniture is on the bottom wall. :) But, it does look like you put quite a bit of work and detail into this project, too. So I think I would give it a 2 for effort and work, but minus points because it's not a very functional hotel room.

• India
16 Jun 09
thanks for your reply.......ye4s i know it is a bit cramped up and yes the bed is king size bed.....and the silver thing in the bathroom is the bath tub and those brown pieces where the doors one is the main door and the other is the bathroom door..........

•
15 Jun 09
Well i should know are you some student in school or are you some architeture student..if you are some high school student then i would say it is definetly nice and awesome, but dear a hotel room must have equal space for bed as well as other things as i can see the best of my eye sight your room has very little space for bed i guess if i am not wrong.So study a bit deeper into the room sections.i would give you 2 i guess.

• India
15 Jun 09
no i a not an architecture student....i am hospitality student and this was my project in my final year graduation.....now i hope you will give more than 2......lollzzz !!!!!!!!!!!and thank you for sharing.......

• Mexico
15 Jun 09
But can you tell what grade are you in?

• India
15 Jun 09
well this an project for my final year of graduation in hospitality.......i had to make a hotel room model....

• Italy
15 Jun 09
Yes look like a room so may be the photo was a bit little and it will be impossible o noticed details anyway you tried this and may be this room can be ok too as a project!!so you would like to leave in a room like that?


• United States
15 Jun 09
Was it supposed to be done to scale? It does look a little broken, so it is difficult to tell. I can sort of tell where the bed is and how the bathroom is arranged. I think the only reason I can tell why he only gave you 1 out of 5 is it is not to scale. But I do not not what their grading rubric was. Did they give you what the points were based on?