Should new friends be believed?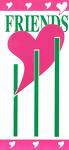 India
June 16, 2009 6:45am CST
Well,making new friends is always a good habit,but at the same time you have not spend a lot of time with that friend.So,can you believe that friend as much as your older friends.I am not mentioning about age by "older" but the duration of your friendship.So,tell me that and also share any bad or good experiences that you had with newly found friends,if possible.
2 responses

• Indonesia
18 Jun 09
I'm not a kind of a friends selector. I always welcome anyone who's wanna be my friend but that doesn't mean i can trust them instantly, because there has to be a long term process for me to really trust those new friends. I made that principal since i got deceived by a new friend that i thought was a good person. After 3 days of being friend, finally he steal my cellphone and disappear until know... It's a great lesson for a friendly person like me.

• India
18 Jun 09
Hi Bloggership,thanks for your response to this discussion.Well,it is always good to welcome them who want to be your friend and there is no harm in it.I really like this kind of attitude but still you also have a very bad experience with these kind of friends.Sorry to know about your experience.