who loves the beach?

Philippines
June 18, 2009 10:52am CST
my parents live near the sea but i don't often go to the beach to swim. they say that those who lived near the sea don't have the chance to swim because in our thoughts that we are near it and anytime we can just dive there.but the opposite is happening.those who are far are fond of visiting there and have some fun.who loves the beach?
6 responses

• Philippines
4 Jul 09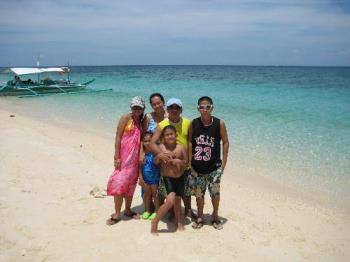 hello there! i really love beaches! this is my favorite place or our family's favorite hang-out. whenever we have time, we spend it relaxing at the beach. we can stay there the whole day swimming, playing, eating, chatting, sometimes forgetting the rest of the world in existence!

• Philippines
6 Jul 09
nice bora pose you've got there. i was there once and didn't afford to visit again since i had my family to shoulder the expenses with. beaches in the Philippines are all great.that's why most foreigners can't wait to stomp their feet on it. the beach here in our place are so cool and usually have bigger waves.

• India
24 Jun 09
Hi Dear Friend, I love to visit to Beach not to Swim, but to enjoy the Environment of the Sea beach, its cooling atmosphere, and the Waves, I am just very much crazy about sea beach and its natural environment...

Keep Smiling and Happy myLotting...


• Philippines
24 Jun 09
yeah sight seeing is always great.especially when the scenery is so much great.whenever we are with friends we would be enjoying more with the place. it's also nice walking around in the beach with someone significant.

• Philippines
18 Jun 09
i always loves the beach. i like looking on its waves crashing on the sand and the different creatures i could find on the sand and under water. i ams o fascinated with the water world and i love snorkeling and hopefully, with the right equipment, i could try diving. i lvoe to swim and be free while on the water, wathicng the sky above. i love the sea breeze in the mornings. thanks friend jhelai


• Philippines
22 Jun 09
well that's my frustration, swimming. im afraid of going far from the sea shore that's why im not interested in swimming.

• United Kingdom
22 Jun 09
I love the beach and am lucky because it is just three miles from my home. The town beach is sandy with two piers, views of Wales, Brean Head, Steepholm Island an Flatholm Island. I like Sand Bay very much just up the coast a bit. It is a wild looking beach with sand dunes and pieces of drift wood. At the end of it is Sand Point that juts out into the sea. My two dogs love to go there. Uphill Sands is another lovely sandy beach with a stunning view of Brean Head.

• United States
18 Jun 09
I love going to the beach and enjoying there.but i dont swim there.but i do enjoy just sitting there and watching the waves come and go.i also like to watch people that play or swim in the water.i like to build sand castles with my kids.

• Puerto Rico
18 Jun 09
I understand what you are saying for sure. I love the beach and right now where I live there are no beaches at all. I never realized how badly I miss the water. So I am hoping to move to Puerto Rico next year and only be 10 minutes from the beach. I pledge I will visit the beach at least once a week. Its just so beautiful and peaceful with the sound of the waves coming in.