What was the worst moment in your life?

Singapore
June 22, 2009 9:06pm CST
I was watching a local telemovie on Father's day and found it to be surprisingly good for a local production. In the movie, Henry asked Jason, "What is the worst moment in your life?" Jason said, "Being remanded at the police station. And my father walking by, ignoring me!" Makes me think back about the worst moment in my life. I remember the time when autosurf was the rage and I was actively involved in them. I was expecting a payout that day. And it was to be a big payout. I remember thinking, this is the break I was waiting for and it would be a few hours to go to get my big break to start life a fresh! So I waited for the money that I earned from my autosurf program. It would be in the 5 figure range when converted to my local currency. A sum that would make a really good starting point to start out fresh after my last fall from grace! To my horror, the money was withdrawn from my account seconds after it was deposited. Some butt hole had hacked my account and I wasn't aware of it. Seeking help from the payment processor is like trying to talk a wooden puppent to life. I was devastated. I almost died of a heart attack when I couldn't get my money back! So many moneys of investing in the autosurf. Only to be robbed from under my nose! And I couldn't do anything about it! If not for my wife holding me back, I wouldn't know what I would have done. Till today, I curse the b@stard who took my money! Just thinking about it still makes my heart ache a little. Sigh... How about you? What was the worst moment in your life?
4 responses

• United States
23 Jun 09
My worst moment in my life was when I broke my back. I got into areally bad accident when I was 18 . The doctor said I may never walk the same again .Now it is 5 years later anf i get pains every now on then when i turn or lift something the wrong way ,but other than that you would never know i was in a accident.

• Singapore
23 Jun 09
Ouch! I know what you mean when it comes to back aches. Once it is damaged, you can never recover well enough for it to be totally normal again. Just have to be really careful what we carry and how we carry them. I heard swimming will help to strengthen the back muscles. And that will aid in the healing process. But do consult your doctor before jumping into the water. Was it a slip disc or something else?


• Singapore
24 Jun 09
the worst moment in my life has got to be the moment i saw my cat lying motionless downstair. i realised i still can't talk about it because the memory is so painful. it's been eight years and the big gapping hole in my heart still hasn't begin to close. if there is one thing i want undone, this will be it. i really will give up everything i own just to have him back.




• Singapore
25 Jun 09
my avatar is the picture of my first cat. she is ten years old now and manja as ever. hopefully she'll be with me for the next ten years and more. the below picture is that of my cat that passed away. isn't he a handsome cat? i guess i'll never get over it. i can just hope that the pain will lessen as time goes by.

• Singapore
25 Jun 09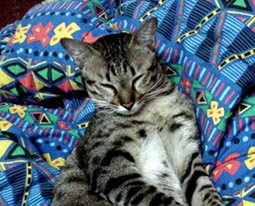 argh the picture failed to load again. guess i'll try again.

• Singapore
23 Jun 09
I guess there are quite alot of worse moments in my life.. All of them are equally worse for me.. haha =D Just to name something that i was really unlucky in.. It happened when i was about 11-12 years old.. I had a fall into the drain and ended up with a scar on my knee-cap.. haha =D After which, a few months later, i was playing ball at home, kicking around and ended up hitting my face right on the wall, resulting in a big patch of 'blue-black' near my eye area almost reaching my nose.. lol =D Then again, after i recovered, i factured my arm while playing at the background, on the money bar.. Just as i thought my bad luck for the year had ended, i had chicken pox!! lol =D After which, it was finally october, i factured my right arm once again, and i really cursed my bad luck for the entire year, especially when PSLE is on too!! lol =D

• Philippines
23 Jun 09
I cannot remember the worst moment in my life and I think my bad moments are behind me now. Cheers!!