Do you have a ghost in your house?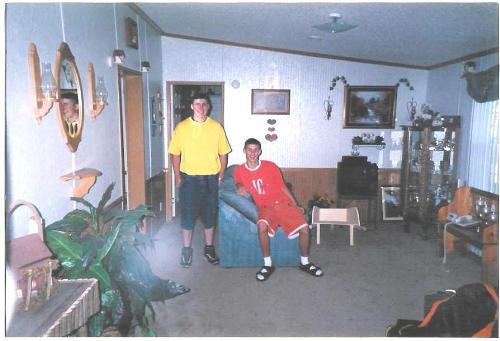 United States
June 23, 2009 2:04pm CST
I have lived in the same house for 21 years. I have always had a ghost here. It used to be a spring time ghost, I have no idea why..lol Out of the blue it started making noises all the time. I have pics of orbs, if I can get a pic of my son & his friend on here you can see a mist on the left side of the pic and what's even scarrier is there is a noose around my sons neck. In the back of the photo on the wall I have a home interior pic and there's a strange face of some kind over it. It aparently isn't going to hurt me or it would have done so already. Has anybody else experiened anything ghostly in there homes?
6 responses

• United States
22 Jul 09
I think its creepy and cool in the same fashion. I've never been able to get any pictures. But I always thought that there were protectors and there were hurters. good spirits were protectors and they were there to ward of bad spirits. Bad spirits were there hurters. It would be interesting to see more. I've gotten where one time I seen a footprint that was just a single foot print in the hallways to my old bedroom at my dads house. I even took pictures of it but it wouldn't show up that well, until I put a sock beside it and you could see it on there. I knew it wasn't from one of use because me and mom are a little heavy on our back feet not our front feet.

• United States
22 Jul 09
I was just now able to see the pic after I commented, but I will say that I can see it. There doesn't appear to be any lighting and it's not like the flash from the camera could go back that far.

• United States
1 Aug 09
Hi, for some reason when I look at the pic on here it really isn't as clear as it should be but yea it is weird isn't it? I really don't think my ghost is here to harm me or anyone but
@
times it does get strange..lol

• United States
1 Aug 09
it's not really creapy as it more interesting than anything but atleast it doesn't appear to be hurting one. So that's a good thing.

• India
23 Jun 09
I dont mean to be offensive or anything but ROFLMFAOWPIMP.. not only were the things u mentioned not obvious in the pic, i actually cudn find them even when i was looking for them, except the "mist", whch to me looks more like an effect of light. Personally, i think u r being way too paranoid, bt maybe thts jus becuz when it comes to the supernatural, i m uber skeptic....

• United States
23 Jun 09
No offense taken, but if you don't believe in ghosts you will automaticly dismiss anything you see. Maybe you should get glasses and look again because even if it's not ghostly things in the pic there are the things I mentioned in there, & it has nothing to do with being paranoid. Sometimes if you have nothing to do better then ROFLMFAOWPIMP at what someone says it's just better to keep quiet.

• India
24 Jun 09
im not just dismissing wat u said, i seriously couldnt see all those things u mentioned.. not the noose arnd ur sons neck.... n no face in any picture in the back.... in which pic do u see the face??

• Philippines
24 Jun 09
Spooky but as you have mentioned they are not the type of ghost that would want to harm you so I guess its okay for you there. The fact that you were able to tolerate them for 21 years without any incidence of hurting from your side means that you are doing okay with them around.

• United States
24 Jun 09
At first the noises and crazy sounds would really freak me out but after awhile I guess I got used to them. I have to admit though when I watch my fav. show Ghost Adventures and I hear some strange noise in the house it still gets to me..lol


• United States
23 Jun 09
I will do that thanks. I'm glad to see you are not negative as the last response. I am not here to bring people down even if he was just making a comment. I'll check your profile out. Have a good evening.

• United States
31 Aug 09
Maybe I am imaging this but look above the picture over the boy wearing the red. It looks like a white hooded figure to me. You must have the original picture. Take a look at it and see if you see something or am I imaging it.

• Philippines
5 Aug 09
well here in my house dont have a ghosts but i have experience in the other house... sometimes me and my friend take a video in a sewing house cos its flood so need to video to report in the owner.. after taking i play the video and i have something to see a one girl.. she wear a long white dress but i cant see her face and her hair is long.. and she seat in a sewing machine... im scared and my friend.... cos b4 we take a video no one other people inside in the house.. except me and my friend