My dog is in pain -- need advice

United States
June 27, 2009 3:44pm CST
My soon to be 13 year old black lab seems to be having pain. A bit of history. He has bad allergies and skin problems. He takes Ketoconazole several times a year along with Simplecef. Well now he has been biting at a section of his leg but he is not yeasty. He also has arthritis and is now taking rimadyl. Before starting the Rimadyl he was biting at the same spot and the vet said it was probably from pain. I would love to take him back to the vet but I can't afford it. I have some topical lidocaine (4%) and was wondering if I could apply that. Generally if he has 2 or 3 days of not chewing the areas begin to heal and clear up on their own. Have you ever tried topical lidocaine on your dogs? Any input here? Thanks, I appreciate all the help I can get.
4 responses

• Canada
28 Jun 09
I think my dog has cancer, I don't know for sure. My dog also needs major surgery which I can't afford either. People are telling me to put my dog down, I don't want to do that because he still has so much energy and pep. Is that what people are telling you too? I'm not sure really sure what to do? What do you think I should do?


• United States
28 Jun 09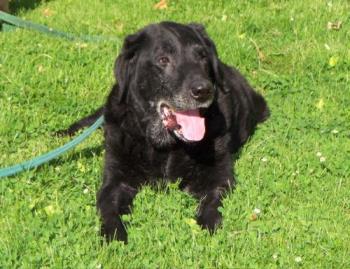 I upload a picture of Denny. As you can see he is pretty old, but so sweet.


• United States
28 Jun 09
I have not heard of it, will have to look into it. Thanks.

•
27 Jun 09
Hmmm, i have never used that. Is it at all possible to cover it up? Bandage it or something? At least that way it will give it a chance to heal, and he wont be able to get to it. Keep him comfortable i would say, dont let him strain it too much, no walks or anything that could make the situation worse. Keep him on the pain relief, and keep the area he is biteing clean! Will be so much worse if it gets infected! Definatly save up and get a vet appointment ASAP though, especially as he is quite old. I would recommed maybe asking just to talk the vet, and explain your situation? Say you cant afford it right now but what advice can they give. Or maybe try and arange something like you pay them in a few weeks? I dunno if your vets would do that, probably not i guess but if it is serious and he needs medical attention you may have to find the money. I hope he recovers and is ok, and that you manage to get to a vets soon! Hope this was helpful aswell

Good luck!

• United States
27 Jun 09
If he sees us going near the door, he is ready to walk. He is eating and drinking fine. I already talked to the vet this week about their costs. They charged me $73 for the Rimadyl and I can get the generic on the web for $38. He argued about the generic not being as good. It is good enough for me and my husband. I wish I could afford them but my van also needs brakes. I already work 2 jobs to make ends meet.

•
27 Jun 09
Aww well sounds like you are doing a fantastic job already then! And just keep up with what you are doing if he is fine other than that. Not much else you can do i supose, except wait till the vet can see him. On monday i have to take both my dogs to the vets for seperate reasons! Not looking forward to the bill i get! I hope your dog gets better soon!

• United States
28 Jun 09
What is he allergic to? Most dogs with allergies can be traced to their food. Corn, wheat and barley are the ones who normally lead the list in allergies. Try offering a dog food that is grain-free. Get some 'Bitter Apple' or 'Bitter Yuck' spray. Spray this on the area he is chewing. These products are made for dogs to discourage chewing of themselves or items. It is safe and a great deterrent. Many dogs who chew are doing so out of boredom. If he is not able to do a lot of exercise type activity, try mental stimulation such as with a dog treat ball. Or make your own. I took a 2 liter pop bottle, removed the lid and inserted some small dry treats inside and tossed it down for my puppy after showing her that the treats were inside and she could get them out of the hole. She's a border collie so she's quite intelligent (has already learned sit, down, come, and roll over and she's only 10 wks old) and got all treats out of the silly thing without tearing it up. Through her playing with it, our 14 yr old arthritic gal gave a go at it, too. Loved it! Our arthritic girl is displastic in both her front and her rear hips. We give her glucosamine triple strength. She's about 60lbs. She gets two of the extra strength caplets a day. The type sold for people is what we give and have for years as do many, many dog people we know (I show, raise and train dogs so I know a lot of dog people). But by all means, ask your vet. They may be able to advise over the phone to specific questions like "can I?" and "how much?". Tea tree oil is excellent for the skin. Try it. Also, do you use your shampoo or dog shampoo? You need to use dog shampoo. Dog's PH is different than humans. That being, human shampoo will dry out their skin and coat something terrible. Go to petedge.com and get the 'Fresh Pet' variety of shampoo. Good stuff! Get some conditioner, too. My dogs can be seen here: http://www.ironwoodkennel.com

• United States
28 Jun 09
Wow, you got a lot of great hints. Let's see, he is already on the low-residue diet, so I am stuck there. That stuff is over $2 a pound. Would love an alternative for that. We have been doing glucosamine chondroitin since we got him, he was originally trained to be a guide dog, he was so good he became a stud until the skin/allergy problems arose. He has a chronic problem with yeast infections and get a ketokonazole bath once or twice a week, it is left on for 10 minutes each time per vets order. We have a buster cube. He used to play with a lot, now not so much. He just wants to be by me where ever I am Thanks