Are you a proud parent?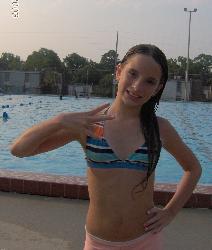 United States
November 12, 2006 2:46pm CST
Share you proud moments that you have had with your children. My daughter came in 3rd place at a swim meet. I was so proud of her!
3 responses

• Australia
14 Nov 06
I am extremly proud of my son, For one i am proud of how well he is adjusting with the huge move we just recently made and how well he is making new friends, and two i am proud of how well he is doing with his school orientation days! I have many many reasons to be proud of my son, he is lovely boy and he is only 4 years old and still each and everyday he amazes me with the amount of things he says and knows!

• United States
14 Nov 06
that is so good, you must be a great mom to have such a well adapted child. Thanks for sharing your story.

• United States
14 Nov 06
Speaking of swim meets made me think of a very proud moment I had when my son was 12. He had been on the Y swim team for several years, mostly because his sister was on it. He enjoyed hanging around with his friends during meets, and if he never won, oh well. The year he was 12 we went to the Y state swim meet. The very last event was the freestyle relay, and my son was scheduled to swim the anchor lap. Since our smaller town team was up against the Cedar Rapids country club team who always won, we didn't figure our team would show very well. However, the first 3 guys managed to keep up pretty well, and my son started his lap just a little behind the CR swimmer. Bit by bit he crept up on the other swimmer until they were just about neck and neck. I was taking movies, and they ended up pretty bad because I was jumping and screaming. Anyway, both swimmers seemed to hit the wall at the same time, but when we looked at the scoreboard, my son had touched the wall first and won a 1st at state meet!

• United States
14 Nov 06
wow that must of been so exciting. I know that feeling my daughters was close too. Thanks for sharing that story.

• India
12 Nov 06

my parents are proud of me i am always first in class they always present me with gifts whenever i come first

• United States
12 Nov 06
thats great, does it make you feel good about your self too? Thanks for sharing