What brand of diapers do you/did you use on your kids?

11 responses

• Philippines
29 Jun 09
I'm really not sure. Maybe I'll choose between Huggies and Pampers. I really want to get the best quality for my baby and money is no object when it comes to him/her. What do you guys recommend?

• United States
29 Jun 09
Hello. As a mother of 5 children, I know my diapers! lol. I actually prefer Pampers. The "snug-n-dry" type. They seem to work the very best and never seemed to leak! They are one of the more expensive brands, but they are worth it for that reason alone! Plus, they seem to fit better than others. And, even though they are somewhat on the costly side, coupons are easy to find for them. Of course I have tried other brands over the years. Once, I bought a really cheap store brand and there were actually a few in the bag that were missing the adhesive tape! I couldn't believe it! There has been times that I have been low on cash and have bought the brand "cotton tails". They werent that bad! But, there was still an obvious difference in quality! But sometimes you have to buy what you can afford! I just cannot wait till my last daughter is potty-trained. She actually just went in her potty for the first time yesterday so my diaper days may be finally coming to an end!!!

•
29 Jun 09
Wow, 5 kids, I bet you do know your diapers well! Good luck with potty training your youngest daughter, it'll be the end of an era almost!

• Malaysia
15 Aug 09
Hihi, i have a 6 months old son. he is using mamy pokko & huggies since birt. Mami pokko is the best between all the diapers, but is a bit expensive compare the others. Huggies is a bit cheaper, but compare the quality of mamy pokko.. really cannot fight o.

• Philippines
22 Jul 09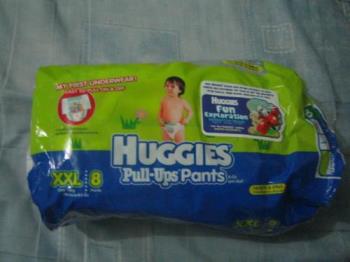 I started using EQ Dry with my babies, since then I have tried some other brands but I think EQ was the best diaper for them because they get rashes with other diapers. It was only when my youngest was around 3 and a half that I had to switch to Huggies Pull Ups since EQ doesn't have that kind. I wanted to train my little boy to get up at nights if he has to pee. Huggies pull ups can be pulled up and down like any underwear but with the protection of diapers so less risk of getting our bed wet hehehe


• United States
5 Jul 09
I use either huggies or pampers. Mainly huggies because they dont leak. I tried all of them though lol the cheap brands gave my son rashes because he has sensitive skin so the only ones I could ever use were pampers or huggies. I could also use luvs but they leaked really bad and all the lil stuff inside would just come out from the diaper breaking open even if he had just gone pee. I am now using huggies pull ups. I live on a military base in the middle of a desert though so they dont have very many options here when it comes to diapers lol.




• Malaysia
29 Jun 09
I choose Mamypoko for my baby son. I asked my friends, colleagues and relatives, they all said this brand is good as in absorbent. Most of the other brand will leak. I try other cheaper brand too, but I just need to change every 2-3 hours. Anyway, I will stock up when there is an offer.

• Paranaque, Philippines
29 Jun 09
When I had a baby, I asked my best friend first what diaper she is using. But after sometime, I was not satisfied with the brand. So I swithch on to another brand and so on and so forth. I found that Mami Poko works best for my baby and I also like Wee Wee care. Sometimes it's the quality that matters. Happy my lotting to you!

• Philippines
29 Jun 09
When my son was an infant we tried a few such as Pampers, EQ, Prokids and this other brand but the best up until now is Prokids. It never failed us up until my son outgrew wearing diapers. It never spilled the gel thing in his clothes and never smelled so bad when he was wearing it. EQ proved to be used only in the mornings where the kids walked but I never liked the plastic kind of material they use so I never used it after I finished one pack my friend gave me.