What is your greatest phobia??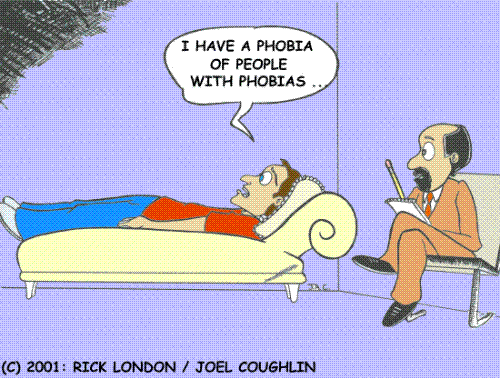 India
June 29, 2009 12:59pm CST
We all have fears. Some are stupid, some are actually scary, some are irrational, and some actually stop us from living our lives normally. But whatever it is a phobia is a phobia. And they exist simply to haunt us. It is said that the best way to overcome a phobia is to face it. So lets start here today with a small step towards overcoming our phobias by talking about them, and giving each other advice, if we have any, on how to overcome them. What is your greatest phobia? Why are you scared of whatever you are scared of? I personally have a great fear of heights. I don't know why but whenever I am at a height or near the edge of a precipice, my feet start shaking and my knees become practically non-existent. I have tried and tried but have never been able to overcome this fear.
2 responses

• United States
29 Jun 09
Mine's losing my limbs. I'm terefied of it. Its a really stupid fear too, but its always something I think about. I have no idea why. I just don't know what I would ever do if I lost my arms or legs.

• Netherlands
29 Jun 09
I've got agoraphobia with panic attacks which is an anxiety disorder that's mainly about being afraid to have panic attacks when being outside. Generally us sufferers find it hard to have panic attacks in situations where leaving the situation would be an embarrassment. In my case it means I am afraid of fainting. When I am hungry I can get pretty anxious at times. Fortunately I have followed therapies which helped a lot as to what to do when I have panic attacks, what to think... Now I go to school again so I am proud of myself. In your situation I would try registering the fears you have when you are on the edge. Then ask yourself: what's the worst thing that can happen? You should answer with: Nothing can happen. Then try to go close to the edge for a few times but if that's too hard try to find steps in between. It's actually all about getting exposed to your fears, know how to have influence on your thoughts and make them positive or neutral and gain confidence...