Summer is here and it is especially hotter for pets, what do you do with dogs?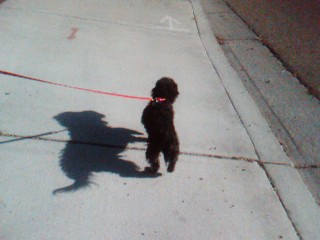 United States
June 29, 2009 3:03pm CST
I am wondering as we have two dogs, they do not seem to eat as much and are kind of finding the coolest spot at home. They are drinking more water, so that's a good thing. I am wondering what do you do with your pets on this hot weather? When are the best times to walk the dogs for you/ (I walk my dog after 7 nowdays, but I am wondering in the morning what's the best time? Would you buy shoes for your dog to walk in the afternoons?
9 responses

• United States
10 Jul 09
oh, i forgot. it is best to walk ur dog late in the evenings, say around 7pm, for not more than an hour. 7am should also be a good time to walk them in the morning.

• United States
10 Jul 09
i think the best place for a pet is a cool spot, like a tile floor. make sure there is a metal bowl of cold water filled with ice cubes for ur pet. if u dont have air conditioning, get a small fan for you pet. the pet will probably sit in front of it letting the fan flow on its face. in the evenings, if u live in a decent neighborhood, why not open the windows and let the cool night air to air out the house through the screen. u can close it before u go to sleep.

•
1 Jul 09
Hy ShellyB, I have 4 labradors, they have pens outside, or they come in the house, when it is hot like this, I have to water their pens down every couple of hours! it drys up really quick, because a dog can,t sweat its hard to keep them cool, I try my best, my dogs don,t seem to eat as much when its hot, I do not walk my dogs in the hot weather, All I do is water the pens down every couple of hours then they have somewhere cool to get down, one of my dogs will have a shower under the hose pipe on shower, but I have to keep my other dogs cool the best I can.

• United States
30 Jun 09
Hi,Mommy. Just dropping in to say hello and show you I have arrived :)

• United States
30 Jun 09
I too live in the deset where it will top at 116 today/ So walking n evening and short yard trips to do business, is it in the heat. I am wonder tho if I should report my neighbor who leaves their 2 dogs outside ALL of the time. They have water, and shade, but 116 is 116AND i WOULDN'T WANT TO BE OUT IN IT ALL DAY!! wHAT R YOUR THOUGHTS THERE? aND NO, i WOULD NOT PUT SHOES ON MY DOGS. i HAVE 3 SO THAT IS A LOT OF FEET PLUS IT IS TOO HOT TO WALK IF T HURTS THEIR FEET!! oops sorry about the caps accidentally hit caps/lock ( am not yelling!)

• United States
30 Jun 09
While 116 is very very hot, I have to ask just how shady the area is, and how warm your neighbor's house can be, sometimes in my opinion, my little home can be much warmer than outside, it retains the heat. Right now in California there is a law that will make an animal's stay in the shelter from 6 to 3 days, so in my case I would not report anyone who cares for their animals even if they do not do it like I do. Why report your neighbor when you can talk to your neighbor and find out what's going on? Maybe their home overheats like mine? Maybe they work and that's their best solution? I have only seen the shoes once, I am not sure if they will hurt the dogs or not, thanks for your opinion

.

•
29 Jun 09
I walk my dog in the evenings too when its cooler its better for both of us, because i would get to hot as well. My dog is clever and he knows the cool spots in the house, also we put the hose on him, he treats it as a game and runs about in the garden but it keeps him cool as well. His hair is long at the minute so we are getting his hair cut very short to cool him down that way, and making sure he has plenty of water

• United States
29 Jun 09
We live in the desert so our summers are about 110 degrees on average. We also live in an apartment so we don't have a yard at anytime of the year to put our pup out in. We normally walk him morning noon and night. It's not fair to keep him cooped up and make him hold it until night time. We take him on 2 long(about 10-20 min.) walks in the morning and night. And I take him out about 2 times randomly throughout the day for just short, just long enough to pee trips. He's a little dog and I would feel horrible making him hold it until night time. Our apartment has grass everywhere so during the dayI just carry him from the door to the grass so he doesn't burn his feet.

• United States
30 Jun 09
Thanks for letting me know, there is not a lot of grass where I live. I will try to do this in the morning, one time around our home and after seven. Thanks for letting me know what you do, my dog is a small medium, terrier mix. I was told he was terrier poodle.

• United States
29 Jun 09
No, I would not put shoes on my dog, or any other dog. I also would not clothe them in any way. They already have a fur coat, that is enough

The dogs are pretty hot, but so are us humans. That's why I am wearing as little as I can get away with


• United States
29 Jun 09
First thing, if it's to hot on your dog's feet, don't walk him. I always keep my dog in the house where it's cooler, she doesn't like a lot of heat, but when we had a kennel dog, I put water spray, very fine around his area and so he always had a cool damp place to be, I also made sure there was plenty of shade. Most dogs like conditions about the same as you do.