Do you set your time piece minutes ahead of the actual time?

Jamaica
July 1, 2009 10:27pm CST
Setting watches and clocks ahead of the actual time is a practice among many persons. I do this myself so that I can always be on time or just a little before time. Do you also set your timepiece ahead of time so a sto not be late?
8 responses

• Philippines
3 Jul 09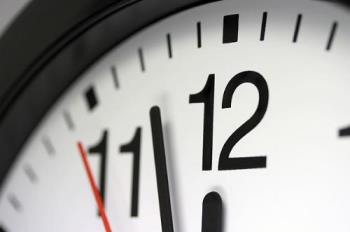 We set our watch 15 minutes ahead of time so we can try to stick to it and not be late. I believe it's a good practice and we've experienced numerous benefits from doing it. I guess the key factor here is trying to hypnotize yourself that the adjusted time is really the actual time.

• United States
2 Jul 09
i have done that many times. i found that at one job i was having a really hard time getting to my shifts on time...so i ended up working my clocks to be a little over a half an hour ahead. and it really helped too. once i hit that half hour i was never late to work again.

• United States
2 Jul 09
My mom sets her clocks and watch 10 minutes faster than the actual time but I don't.

• United States
2 Jul 09
I think that I have done this in the past. Waaayyy in the past. But, I am a person who is chronically late. And, if I knew my time was set ahead a little bit, I would adjust and constantly remind myself that it's not the real time. Therefore, I would still be late. There's little hope for me when it comes to punctuality.

• United States
2 Jul 09
hi tjades, I also set my watch and clocks 5-6 minutes ahead . . even though I know that those five minutes are there it still makes me feel as if I am ahead of the game. . .I dont like to be late and this little trick has always helped me out and it relieves any stress that I may be feeling! I know quite a few people that also do it! Hope you are having a great day here on the lot


• Jamaica
2 Jul 09
Hey Saw...

I can remember being too tired to get up after checking with my timepiece some mornings. I end up subtracting the additional time and decide to get a little more snooze only wake up later.

Thats never good. Wish Id stop subtracting the time sometimes.

• United States
2 Jul 09
actually i do. i set it 2 to 3 mins early. it makes me feel like wow i'm late i have to speed things up.

• United States
2 Jul 09
My alarm clock and the clock in my truck are both set ahead by five minutes but, the problem is, that I know they're set ahead, so I always take that into account when I look at them. My husband, on the other hand, believes whatever timepiece he's looking at so he complains when he looks at the time in the bedroom and then notices that the clock on the wall in the kitchen says something different. It works for me though.


• United States
2 Jul 09
Yes - I do set the clock in my room and my watch ahead of the actual time. It keeps me from being late - and from rushing if I were to think that I'm late. It's a buffer zone, so to speak. It's very effective, I must say.