Helpless baby monkey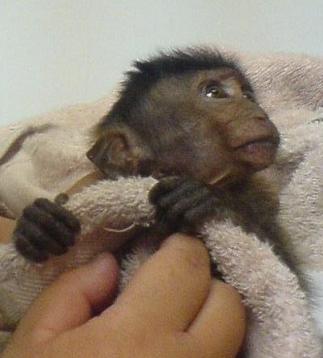 Malaysia
July 3, 2009 9:18am CST
I met a young monkey behind my workplace, stretched out weak without any food and toes and with torn fingers so bad, from an attack by an adult monkey, that you can see the bones. Flies started to surround it and what was sad was that there is many people around but nobody tried to help. I decided to take it to an external vet, I called it QiQi. Even though he was getting healthier, the bad condition of his legs forced him to be on his back most of the time.Many people told me to put QiQi to sleep. I did think about it because I felt for QiQi but when I think back,QiQi even though it couldn't stand was always happy with me. Every time I hold it in my arms, it would always pretend to talk and even enjoys falling asleep in my embrace. I even asked for advice from a vet. There was even a doctor from Zoo who offered to help QiQi but until now there hasn't been any news about it. Am I asking too much?They don't entertain request like these because it doesn't serve any benefit to them, they don't make profit from helping disable animals. QiQi past away last month. I think I already did the best for him and I will always help abandoned/helpless animals. I need ideas from all animal lover to help me to help unfortunate animals. TQ Visit my youtube and you can watch my last video with QiQi Search keyword: In memory of QiQi,my handicap monkey Dec 2007-June 2009
6 responses

• Philippines
18 Jul 09
I guess I was wrong about you. i even checked your website. you got me impressed there. well, at least you did everything in your power to save the monkey. to be honest i envy people like, who raised by animal loving people. here, i think am the only one who likes cats and my mom would hate me to ever having one, what's more if i had two or three. i have only experience with cats...i commend you for your effort. keep up the good work. well, advice is that you can research on animals before helping them..or study veterinarian yourself.

• United States
6 Jul 09
I am sure he felt comfortable in his last days being in your care I am sure you did your very best so sorry that he pasted away keep on helping all animals in this situation

• Philippines
4 Jul 09
aww..sad story.

.you did your best to save his life.even for a short period of time,you gave QiQi all the love and care he needs.he is in heaven now and is looking after you.God bless your kind heart.QiQi wants you to be happy and would like other helpless animals to experience what he had with you,so keep on helping other creatures.

• United States
4 Jul 09
I am so sorry to hear your QiQi passed away. God bless you richly for your kindness to this little creature. I am so sad that he did not make it. The world needs so many more kind people who care about helpless animals enough to help them when they are suffering. God bless them too.

• United States
3 Jul 09
That is a sweet story, you seem to be a very giving kind person. Your little monkey is so cute, and you should be proud that you were the one who gave him a little bit of life, when others just ignored his cries. I just watched your video. SO sad :(. But it shows that you have a true heart. You are a good person.

• United States
3 Jul 09
Ahh I am so sorry to hear about the discovery you have made. The monkey you found is so preciouse. I am sorry I don'y know where you could take him to get more help I thought a vet or zoo would want to help.