How would You Feel If You Were Cut Off From Your Grandchildren? Help!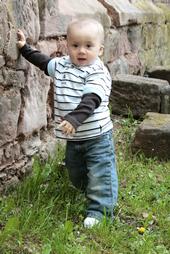 United States
July 4, 2009 6:56am CST
Hello group,I am a first time Grandmother of a handsome baby named Joshua.For the first 10 months of his life I was there in the picture. Watching him on a web cam, Pictures lots of them to Communicating with My son & his wife . Now let me back up . my son & his wife live in Germany . He met her while stationed there. Now I was so happy that I was going to be a grandma, I must sent everything under the sun over there for Joshua. We were all in communication too. I was even trying my hardest to get there for Christmas last year, but they came here instead. They stayed at my ex sister-in laws house in CT.When they came here for the first and only time we had a great time. After the left I never heard from them again. Since that visit I have been totally cut off from my Grandson!! I don't know what happened. I can see my daughter-in-law is very controlling . She cut me off of her my space page were I would get all my Grandson's pictures . I guess she didn't like the idea that i was taking his picture 's from her page.This what I think,might have happened I don't know what else to think .I am just devastated & Heart broken over this and been crying for months now. I have looked into Grandparents right s and really can't find anything about international laws. My grandson was born on base so he is a USA citizen . Has any one out there ever gone threw this? If so could u help me with any info about Grandparents rights? Thank you, Debster 65
3 responses

• United States
4 Jul 09
You can win more with honey than you can with a big stick!!! Call your daughter in law. Start with this. Oh, I need your help!! I'm having trouble getting those wonderful pictures you take of my grandson. Would you? Could you please send me pictures of him?? I'll pay for the shipping. You must be a great mom. He looks soooo happy a child! Getting the idea? You can always go to your son if things do not work out. Going to your daughter in law first, gives you a chance at making a good connection. Relationships are about communications. Send the right message!!

• United States
7 Jul 09
Hi Bird, I like your straight forwardness! I too get right to the point. Believe me I have been super nice and know better than to piss off the mother of your Grandchild too. My Mom use to always say what comes around goes around. I can remember not being so nice to my ex mother-in-law and for what? I was just plain jealous of how spoiled my ex was by her.So because of the love she had for her son I took it out on her threw the grand kids. Oh believe u me she could take the boys anytime she wanted too. That was the problem she wouldn't.in fact none of them did . I kinda don't blame her because the were like ransom of red chief those 2 boys together . So I guess i am just getting a taste of Carma. I am always nice to Julia and my son. I have tried over & over again to contact them,but no luck in getting either one of them to responded back. Yes there is a bad history in the past with my kids due to my addiction problem back then. My sister -in-law took over raising them when they were 7&8 yrs old. But as far as the baby stages NO one would go near Scott! he was very hard to handle and was for ever getting into stuff. Brian was always with my mom and I am sure Scott wanted to be with other families members and could not understand why he was not taken over night and Brian was. Scott and I were so close due to this. But since he went to lou-ann's it hasn't been the same. I am sober & clean today and it took me 20yrs to get there too. My son Scott noticed a big change in me just by talking on the phone and he was so happy too. Until the his wife kinda step in and runs the show. I know for a fact that her home life in Germany is no different than it was in Scott's home life when he was little and with me. They all live with her parents and I can see her Mom does a lot of the raising with Joshua too. So all I can do is hope and pray that some day my son will come around and realize I am a good mother today & grandmother .

•
4 Jul 09
Hi debster65, That is very heart breaking, how can she do this to you, can you not talk to your son about or get in touch with him? I think someone been stirring somewhere and your son should put his foot down, I don't know much about the law in your country but over here there is something grandparents are entitle to, please don't give up fidning out. Good luck. Tamara

• Puerto Rico
6 Jul 09
I have a 3 year old granddaughter and if I was completely cut off from her I would be crying too. I would just call to find out what is going on. Be honest about your feelings because communication is the number one thing. Without that you will not know what is really going on. I honestly don't know if there are any type of laws for grandparents but going that route may make things worse. Remember you really are not sure of what the problem is. Just call asking how everyone is doing especially your precious grandson. Good Luck to you!