Got payment from Bux.gs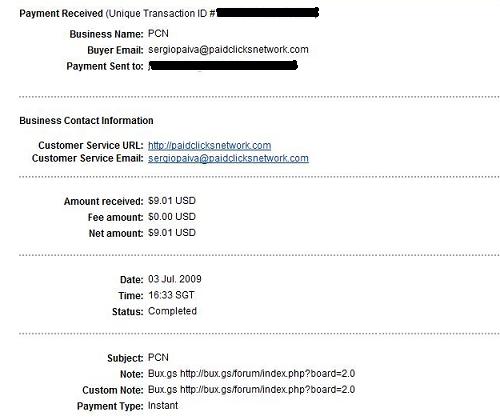 Singapore
July 5, 2009 10:51am CST
I just received my very first payment from Bux.gs recently. It is a legit site, and fast earning as compared to most of the rest of the PTC sites. $0.01 per click ads for 30 seconds, $0.005 per referral click, 5-7 ads per day (depending on which country you are from), Minimum payment: $9, Payment via Paypal or Alertpay, Received my payment in approximately 1 hour after request. You may visit my profile for the banner if you are interested. If you are a member of Valuebux, may you introduce it to me? I am considering to join this site.
7 responses


• Philippines
6 Jul 09
Congratulations! Nice one! How did it take you to achieve the $9 payout? I guess you have a lot of referrals...Thanks.

• Singapore
6 Jul 09
i'm also a member of bux.gs and waiting for my payment , it's still a distant away from my payment , it's a good sites to join and i heard that many friends here get their money from bux.gs and it's not a scam sites .

• Philippines
28 May 16
Congratulations on your first payment. Isn't it time-consuming?

• United States
5 Jul 09
i just joined that site a little while ago i cant wait to reach payout i like getting paid from good sites.

• India
5 Jul 09
congrates for your first paymnet....

yes they are one of the genuine sites that are paying their member... i have also been paid by them many times.. and about valuebux....hope u would like to join under me... moreover, check my profile and blog for some more genuine sites with whom i am working.. best of luck for your next payment..

[b]Keep lotting....keep earning.... byee... [/b]