Your Dream Computer!

United States
July 6, 2009 9:50pm CST
If you could get any computer right now what kind would you get? What would it be capable of? I'd get a desktop with the best core i7 CPU available today, as much RAM as possible, and the best graphics card I can find. Also I'd want a big LCD touch screen display! It would be capable of playing all the latest games and so much more! I want it!
4 responses


• United States
7 Jul 09
Maybe I don't really need such a powerful PC but I'd like to have one that is powerful.

• India
7 Jul 09
Hello, my dream computer is the fastest computer with great RAM. The most important I want about my computer is that it should not hang every now and then. It should have super graphics and the CPU should be smallest in size. The better the RAM, you get the ease to use high memory requiring software, games and other programs :-)

• India
7 Jul 09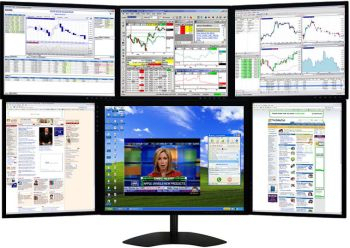 Proccessor: Intel Core 2 Duo I7-975 (3.33 GHZ X 2) Mainboard: Intel® Desktop Board DX58SO At product launch, this desktop board supports: Support for a Intel® Core™ i7 processor in an LGA1366 socket Memory Four 240-pin DDR3 SDRAM Dual Inline Memory Module (DIMM) sockets Support for DDR3 1600 MHz?, DDR3 1333 MHz?, DDR3 1066 MHz Support for up to 16 GB? of system memory Chipset Intel® X58 Express Chipset Audio Intel® High Definition Audio subsystem in the following configuration: 10-channel (7.1) Dolby Home Theater* Audio subsystem with five analog audio outputs and two S/PDIF digital audio outputs (coaxial and optical) using the Realtek* ALC889 audio codec Video Nvidia SLI* and ATI CrossFire* multi-GPU platform support enables two graphics cards to work together for ultimate 3D gaming performance and visual quality Full support of next-generation ATI CrossFire* and Nvidia SLI* LAN support Gigabit (10/100/1000 Mbits/sec) LAN subsystem Peripheral interfaces Twelve USB 2.0 ports (8 external ports, 2 internal headers) Six Serial ATA 3.0 Gb/s ports, including 2 eSATA port with RAID support supplied by a Marvell* controller Two IEEE-1394a ports (1 external port, 1 internal header) Consumer IR receiver and emitter (via internal headers) Chipset: Intel® X58 Express Chipset Comes with the mainboard RAM: 2 x DDR3-1600 (800 MHz) 4GB Graphics Card for Dual Monitor: Nvidia GeForce GTX 295 with 1736 MB RAM Display: 2 x 23? LCD Monitor (Samsung SyncMaster 2333SW). Finally moving to a dual monitor! Currently I am waiting for a replacement DVI - VGA connector so I am using a KVM with both my old and new machines using the dual display while sharing the keyboard. Even with that limited setup I have started realizing the benefits of dual monitor in increasing productivity. Harddisk: 1 TB SATA Seagate Optical Drive: Blue Ray Disk

• Philippines
7 Jul 09
For me, my dream rig or what we call in another forum as 'Ruler of the Universe' is a desktop PC that has multiboot OS of Windows 7/ Windows XP/ Ubuntu Linux...It has to be powerful enough to handle my resource hog multitasking activities like encoding audio & video, photo/image rendering, playing audio/video for quality resampling... surfing the net while uploading/downloading a file... I usually do this at the same time b'cos of deaadlines... If I'd be late then I get less acclaims for my online activities and less income too. Here are spec : dual Intel Xeon processor or I7 core... overclocked to 5 GHZ or above 16 to 32 gig of RAM 2 to 4 GPU card (ATI Radeon HD4890, if possible) dual LCD monitor... 32'inches Viewsonic or Samsung Syncmaster 7.1 surround speaker system (all THX if possible) 4 x 2 TB Western Digital disk drive space Blu-ray drive from Sony or Pioneer Super cool ATX tower w/ extra room or storage for another disk drive or Graphic card.. All in all...that's $20,000 or more!