Incorrect Bra Sizes and You...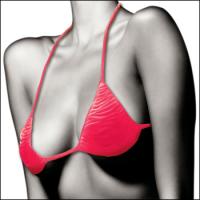 United States
November 12, 2006 8:00pm CST
According to Tracy M. Pfeifer, M.D., a board-certified plastic surgeon in New York City, an estimated whopping 80 percent of women wear the wrong bra size. Besides being uncomfortable, ill-fitting bras can contribute to chronic headaches, back pain, tingling in the arms, restricted breathing, abrasions, rashes and breast pain, especially during exercise. Here are five signs that the bra you're wearing isn't your size, and tips for a better fit:1. Spillage If your breasts spill over the top or sides of your bra, increase the band and/or cup size. 2. Puckering If cups wrinkle or pucker, choose a smaller size. 3. Riding up A bra should fit snugly. If it creeps up in the back, trade it in for one with a tighter band. 4. Jutting The underwire isn't flush against your rib cage; it should be. 5. Grooves If straps dig into your flesh, try a style with wider straps or a different cup size -- either bigger or smaller To determine band size, measure around the rib cage, just below your breasts. Then add 4 inches if the measurement is even and 5 if the measurement is odd. To determine cup size, measure around the fullest part of the breasts(over the nipples). Deduct the rib-cage measurement from this figure. A 1-inch difference between the measurements equals an A cup, 2 inches a B and so on. How many of you have found you are wearing incorrect bra sizes, and what do you think made you choose the wrong size?
1 response

• Canada
13 Nov 06

Thanks for the information.I think that I'm wearing some bras that are a little small for me because I have gained wome weight.

• United States
13 Nov 06
You're welcome ! I couldn't believe how many women have an incorrect bra size according to that study! I was shocked to see mine were actually a LOT smaller than I should be wearing. My back pain is a lot better now having the correct support!