Did you know that your dogs teeth should be brushed twice a week?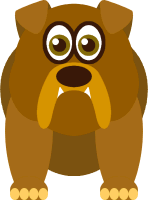 United States
July 9, 2009 3:32pm CST
Do you buy the doggy toothpaste and did you know that human toothpaste is bad for dogs because they cannot swallow?
7 responses

• Canada
12 Jul 09
Yes they should be done at least once a week, with pet toothe paste. Regular toothe paste irritates their stomach and they get indigestion. We don't swallow the paste, they try to because it is in their mouth and for them it is a natural thing to do, in the mouth swallow, learned as a puppy.. REMEMBER ALWAS LUV/ CARE FOR YOUR DOG/ PET, THEY WILL ALWAYS LUV U..

• United States
12 Jul 09


That is so true. There are many people who do not know how sick a pet can get from this. If neglected, the pet can have serious health issues develop just like people. Appreciate you sharing.


• United States
12 Jul 09


I do not think my dog will be excited about having her teeth brushed twice a week lol however, she would not like going to the vet and having the vet clean her teeth either. So because she is such a small breed dog, I must find a small brush. I am not sure which one of these toothpastes will work out. I hope this does not turn into a battle of wills.lol

• India
12 Jul 09
oh sounds interesting :)i dunno this till now.....if so how to brush dog's teeth......???can anyone tellme plz.....:)i have to keep my dog's teeth clean & shining.....:)so that everybody will see if my dog smiles....:)we have to use doggy toothpaste uh????where we can get that????:)

• United States
12 Jul 09


You can get the toothpaste and brush's at most pet stores. There are small and large brush's. There is chicken flavored and beefy flavored toothpaste. Now, this can prevent decay and improve the dog's breath but it can also save money because of costly vet bills.

• United States
9 Jul 09
I buy chicken flavored toothpaste for my dogs. They don't seem to mind it. I tried a mint flavored one time and they hated it. When they were puppies, they did not like having their teeth brushed at all. But now they have gotten used to it and as long as I buy the chicken for them, they are ok with it.

• United States
11 Jul 09


That is good to know. I will have to try the chicken. I would not want to see my dog have decay and we are suppose to clean their tongues as well. Appreciate the response.

• United States
9 Jul 09
I had no idea! I usually just brush mine with a toothbrush..no paste or anything. I also try to always keep them something harder to chew on. I have got those green snacks that are supposed to help their breath..I'll have to look for some doggie tooth paste. Thanks for the info!

• United States
11 Jul 09


My dogs breath changed and smelled bad and thats when I started checking and found all this out. The vets will sometimes put them to sleep in order to clean their teeth. Appreciate the response.

• United States
9 Jul 09
My dogs get real bones and I have never had a tooth problem, I don't think my dog would let me brush her teeth, she thinks teeth are for biting.

• United States
11 Jul 09


I gave my dog real bones, and biscuits but noticed a change in her breath. I know now that she does need the brushing and the tongue has to be cleaned as well. The agreed times were twice a week.

• United States
9 Jul 09
I have heard that before and donew that to my dogs couple times but I didn't keep doing it; I asked the doctor, he said I could get him some biscuit so he can chew, it helps cleaning his teeth as well.

• United States
11 Jul 09


The biscuirs are great but do not work alone. I am checking into a beefy flavored toothpaste that dogs are suppose to love. Appreciate the response.