Ice Cream Eater

United States
July 10, 2009 3:08pm CST
Do you like to eat ice cream, and what type of ice cream you prefer, mylotters? Whatever ice cream you like, do you normally add in some flavors like syrups, chocolate , fudges, cream or fruits or your own specialty to it or eat it plain as it is from the store. I am interested to know each individual special way of enjoying her(his) ice cream and please share some of your mouth watering personal recipes of eating ice cream if you don't mind especially in this hot and sweaty month of the year.

Thank in advance for whoever want to share with us here.

4 responses

• United States
10 Jul 09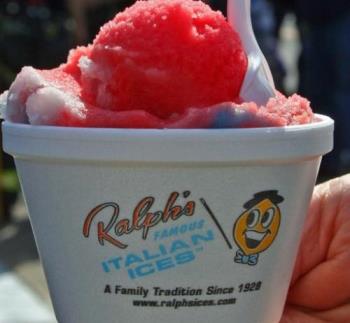 hi lamp:) not sure if I have ever met anyone that didnt love ice-cream

for me ice cream is almost as good as oreo's

as how i like my ice-cream . .well first of all I like it a little on the melted side .. not exactly soupy but almost there . . I love colored sprinkles and my favorite thing to do is add a cherry or 2 to the top . . hehehe . .My most favorite is Haagen Daaz coffee . . .next I like chocolate and actually I have never had a one I didnt like .. add Cherry Garcia to my list from Ben & Jerry . . Sometimes when it is really hot I like to put ice cream in a soda . . vanilla is usually a good choice for this! Also here in NY . .we have this chain called Ralph's . .they specialize in ices! They are kinda like what you may know as Italian ices but they dont put it in that little paper cup . .do you know what I mean??? .. Cherry is my favorite flavor here . I love it so much because it has little pieces of a cherry throughout. . It is a pretty busy place as they have something for everyone .. from Milkey Way Ice Cream to a watermelon swirl! And the best part of Ralphs is that the ices are half the calories of ice cream! Well that is only if you stick with the ices. . if you go for something like Hot Fudge Brownie Vanilla Ice Cream sandwiched between Warm Fudge Brownies and Hot Fudge, Topped with Homemade Whipped Cream and Chocolate Chips . the calorie count is going to go up!!!! But I know that one by heart cause that is what my friend always gets there . Ok so now you have my mouth watering and I am going to have to go to Ralphs tonite . .good thing it is close by

happy ice cream days to you my friend!

• United States
11 Jul 09
Hi saw, your specialty is a lot more complicated than many of us here have. I will have to reread several time of your response in order to get a bit of the clue of how to make one for myself,it seem like i have quite a few mouth watering ice cream recipes from you now. it is making me thirty and crave for some at this moment. lol!

I like to pour some very fine and tiny ice into my ice cream to mix with whatever flavor i want to add in, doesn't matter whether it is Italian ice or not, it give me some real 'cool feel' when i have my ice cream in the heat of the day, nothing can beat it in this hot sweaty summer. I hope you got yourself a big Ralphs ice cream tonight and happy eating ! lol...


• United States
13 Jul 09
wow lamp . .thanks for the pencil here . .

i think you want some of my cherry ices .. . funny when i just got that br . . . cause i got a double order when i went to the store the other day . .so i am once again eating them now! talk about perfect timing



• Philippines
14 Jul 09
i love caramel on my ice cream, but my family are diabetic so even i have no diabetes my wife freaks out if i do that. she can say yes with caramel if my ice cream is vanilla only. i also love eating ice cream with cake but lucky there are cakes with less sugar and there are ice cream for diets or diabetic as well. in dairy queen i love bananas and strawberries. i can eat whatever flavor that is when it comes to ice cream, i like MnM's or oreo cookies to go with it har har har. if only my wife can read this har har har

• United States
14 Jul 09
In the case of family having history of diabetic, it is vital you need to be aware of excessive sugar intake, i understand why your wife can freak out knowing about your sweet flavor taste for your ice cream. I have a father struggled with diabetes for many years, he lose out finally, so i personally is cautioned about eating sweet stuffs n high sugar content food too since i may be genetically vulnerable to it , but i still can not resist putting chocolate into my ice cream.

Fortunately, so far i am sweet to the taste of having fruit inside my ice cream like you do - banana, berry, mangoes,papaya...they are indeed quite a healthy diet after all and can eat until my heart content. haha....

Thank for your ice cream recipes here, my friend. Have a happy- mylotting .

• Philippines
10 Jul 09
I love eating ice cream so much; i prefer mostly with chocolate, mango, strawberry, sweet corn, and classic vanilla ice cream but i'm okey with other flavors but not most of the time. I like to eat them with hot fudge, crushed cookies particular with oreos and chocolate chip cookies, slightly sweeten whipped cream, wafer sticks (i prefer with champola wafer sticks: chocolate flavor), other selected fruits (i'm kinda picky with fruits as my ice cream topping) and with the cherry on top. I can also eat them plain whenever i have the craving of eating ice cream plain but it's happens to me most of the time. And not to mention that i'm okey with ice cream specialties like banana split, parfait, sundaes and so on.

• United States
11 Jul 09
I like to mix cookies, or fruit into my ice cream occasionally. But majority of the time, i just eat it like from the store and add some chocolate syrups with it since the ice cream i got already had cookies or fruits inside them with the original package.

Happy mylotting, friend.


• United States
10 Jul 09
I am definately an ice cream eater. I love banana split ice cream but I usually do vanilla. Makes me fel less guilty

I don't really add a lot of candies and syrups to mine. I like it plain but occassionally I will live on the edge!