Whatt is Truth?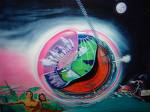 United States
July 14, 2009 10:57am CST
We accept reality to be the physical world around us. Reality is that which we know through five senses: touch, taste, smelling, hearing, and seeing. Webster says truth is "the quality of the being in accordance with experience, facts, or reality; conformity with facts," also "a particular belief or teaching regarded by the speaker as the true one." This adds the dimension of a spiritual reality. However in the area of information, reports, and beliefs passed along by people we often discover deceptive and disappointing results. Claims that people make, recommendations, financial investments, and "news" often do not prove to be good or true. It has been said, in irony, that we should not believe anything we hear and only half of what we see. Cynicism is the result of increasing selfism, deception, and disinformation in society. Who can be trusted?
1 response

• India
14 Jul 09
Certain things are "facts of life". For example: The Law of Gravity. is a fact of life. Any object you drop out of your hand will fall to the ground. What goes up must come down. And there is absolutely nothing you can do to change this Law of Gravity. Certain facts are there "always true". And we must accept them. There is no second chance. we learn from our experiences.