Examinations - has it killed education???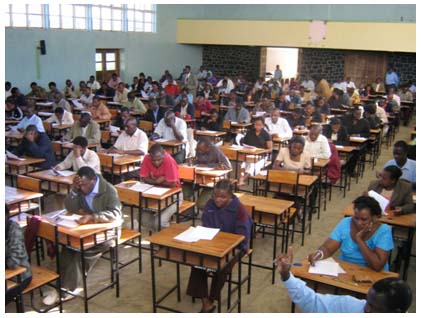 India
July 14, 2009 12:28pm CST
MY OPINION: While it might be true that examinations as the sole criterion for judging performance might not be a good idea, examinations can still be used as one of the many performance criteria. Examinations can be combined with other tools like projects, assignments and presentations to judge a student's performance. The weightages for the different tools would have to be carefully chosen after taking into consideration the nature of the course as well as the depth of the course. If the subject calls for a mere understanding of the facts, the weightage of examinations can be more . However if the subject has more practical implementaions, the weightages for the projects can be made substantially higher. Also rather than questioning the usefulness of exams, it would be better if we focus on the nature/ quality of the questions in the examination . If the questions call for a mere cramming of the subject, it would not necessarily be a good judgement of the students abilities. On the other hand, if the questions were to test the understanding of the concepts and the applications that it could have, it calls for a larger amount of analysis/thinking from the student . Such an examination would be more ideal to hudge the student
5 responses

• Philippines
14 Jul 09
Examinations definitely killed education. There are factors that can affect a students' performance in a exam so I don't think it should be the main criteria to gauge how well a student is. For example, if the student isn't feeling well during exams, he/she may not perform too well. And yeah, most students cram before examinations and basically forget (most of) what they have studied after the exam. I prefer projects and case studies.

• Singapore
15 Jul 09
Education has caused much rote learning and are causing many students to be inflexible when approached with many different situations and difficulties. Examinations are forcing students to focus on studying mainly the contents and creativity will start dying out from a student. This is actually quite a 2 sided thing, with its pros and cons.

• China
15 Jul 09
Examination was a great thing when it been created . It can test one's ability in some aspect . But now , many student just aim to pass the examination but not to get knowledge because the school and some companies just judge student's performance by your score . In my opinion , examinations have or will kill education if we don't do somethings to change the form of examinations . Examination should have more forms to test one's ability in many aspect but not just answer a paper .