Andrew Flintoff to retire from tests.

India
July 15, 2009 6:20am CST
Andrew Flintoff is is expected to announce his retirement from test cricket (just media reports so far). But a press confrence has been called soon so it seems reports are true. Anyway the major reason is injuries that he has had over the years. But I wonder what the role the IPL played in this decision, and the impact of it on other players Anyway all the best to him http://www.sportsbackyard..com/andrew-flintoff-to-retire-from-tests-at-the-end-of-the-ashes-t59.html
5 responses

• India
16 Jul 09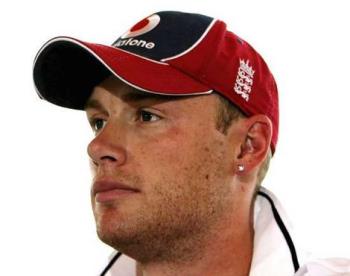 hi mac6999:)
What a amazing Cricketer is Freddie.It is really a sad day for all of us that he is retiring from test cricket after the Aussie series,not because of the age but due to persistent injuries. We feel that his cricketing career was not handled properly by English management and on the other side he has to blame himself for taking his cricketing career too casually and to some extent due to his drinking habits.It generally happens with the gifted players.They simply do not follow the right path and lacks in discipline and dedication.Freddie's averages do not match with his enormous talent.Perhaps he is the most gifted allrounder after Ian Botham.He is having the ability to change the complexion of the match with the bat or ball . I still believe lot of cricket is there in his career,now he needs a mentor who can guide him properly in the right direction.Come on Freddie you have the guts and the talent,show it to the world, do not runaway due to small injuries.


• India
22 Jul 09
Yeh its sad to see a good player go, especially to injuries. The way he played in the second test makes it even worse. He bowled brilliantly, just like the good old days. Theres too much cricket these days and players will suffer. Freddy has had some disciplinary issues and some acholol related problems, your right it comes with almost all good players. He will continue playing T20's and ODI's which will be a bonis for England. Leats hope he can go on for a long time in those formats.

• India
15 Jul 09
that is ridiculous decision form andrew flintoff really he is a lovely player and already engalnd team is in big danger they almost loose every match whether test or odi and still such a decision form him england team is going to get more down now..for sure..he is really fit player it has made a little upset whether i am indian still

• India
16 Jul 09
yeh he is a very good player to watch, but the good thing for England is that they will have him in the limited overs squad at least for the next couple of years. Yeh many people are upset with this decision, but he had to make it sooner or later. You cannot be out injured more more than half the matches that your team plays.

• India
15 Jul 09
Andrew Flintoff is a good player, no doubt about it. But he has got lots of attitude which is not good for sportive spirit of the game. Remember the incident between he and Yuvraj Singh where Yuvraj scored 6 sixers in a match. Any ways he has been a good cricketer for the English team and has won many matches for his country. All the best for him for his retired life.

• India
16 Jul 09
he has a lot of firepower and gets stuck into the opposition. I would not call it attitude, because people say he is a good person off the field. Seriously I dont mind players being aggresive once they cross the white line. In the match you are referring to there was a bit of banter between Yuvraj and Flintoff. Unfortunately only one person wins a battle. To Broads bad luck Yuvraj got stuck into him hitting him for 6 sixes.

• India
15 Jul 09
i think not so possible to retire him from the cricket

• India
15 Jul 09
Yeh he will retire from test cricket at the end of the Ashes. He will still play limited overs cricket, which will be good for England. This news is from a very good source cricinfo. anyway this is the link i wanted to share, I put 2 dots [.] near the com. http://www.sportsbackyard.com/andrew-flintoff-to-retire-from-tests-at-the-end-of-the-ashes-t59.html

• India
16 Jul 09
This decision may go bad against England as it was Flintoff, who was the Hero for their side in the ashes series win over Australia and he is the main reason that they won it. Now, that he is retiring from test cricket, England may find it difficult in the future series against Australia to find such a great all-rounder like him!!