Do you like being Busy?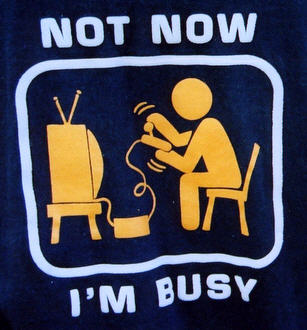 India
July 18, 2009 7:37am CST
Hello friends, its very tough to agree that you really wish to remain busy throughout your day and life. I do agree that I really don't want to be busy the whole day with one or the other work. But people say that even if you are taking rest, you are busy in taking rest. Then how come one say that they don't like remaining busy? Is that possible?How can you make it possible? can you say that you are not busy?
3 responses

• Australia
18 Jul 09
One of the talent of being a human is to organize our time by ourself. Yes we may sometimes very busy, but is the work really gotta make us busy? I don't agree that it is busy on taking a rest. Otherwise why do you need rest? Learn how to allot your time to finish things under schedule containing with enough rest. A good way to do that is to write a time-table to follow. Think about what is important and urgent, put them in a priority. Hey, maybe you think that doing exercise is important, it doesn't matter, don't miss it, and don't forget to set a resting period after that.

• Australia
23 Jul 09
Haha, I said exercise is important because I think it is important too. I have been following my plan every day including a day to rest every four days. I also have a time table for my household for the cleaning duty. But I still working hard on alloting the time to study and work, because my girlfriend is always disturbing (XD). I feel free to do that anyway, she is the most important person, I am still trying to let her know, I have organized my time to do this and do that, "Can you please wait......"

• United States
18 Jul 09
Hi navonly! Yes i do like being busy. It seems to help the time pass by faster. When the day is over, and if it has been a busy day, then i feel as if i have accomplished something, and i rest alot better at night. Then i can get up the next morning and hopefully have another busy day. I have also found that if i can keep my children busy, it helps them sleep better at night, and i don't have to argue with them to try to get the to go to sleep.

• Philippines
18 Jul 09
I like balance in my life.if I'm too busy,I get burned out.if I'm idle,I feel stagnant.balance is the key.too much of one thing can be dangerous and tiring.