Have you ever heard of a buffalo burger?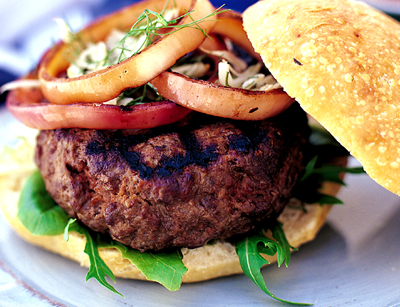 July 20, 2009 6:48am CST
I thought buffalo were extinct but a few years ago at a festival there was a van that sold what they claimed were buffalo burgers, it also said on the van the meat was lower in cholesterol than ordinary beef. If you paid 50p extra you got cheese relish and guacamole and they were best burgers I'd ever had I ate one every day at the festival. Sadly I've never seen the van again at any other festival

A quick google search shows me you can buy them in bulk on Amazon (though only from America) so I may invest in a load and fill my freezer.
10 responses


•
20 Jul 09
I'm surprised that it's not more popular over here with the health benefits, maybe the Buffalo don't do well in colder climates so we have to stick to cows.

• United States
20 Jul 09
I don't know why they're not popular there. They winter well, and are grown in the north area where it gets quite cold. They do take room, though, as you can't raise them in pens the way you can cattle. They need grass to forage - as a matter of fact, it's illegal to sell the meat here if you've finished it in a feed lot.

•
20 Jul 09
That's probably why then as to produce enough cheap meat in this country they have to do it confined spaces as there just isn't enough room. There must be few specialist farmers who breed them somewhere in the UK though, I'll have to look into it.


• Canada
20 Jul 09
When we were going on our holidays, we went through an Indian reservation and there was a place that sold buffalo burgers and also there are some restaurants that have buffalo meat. This was in Canada. I also saw on television that they have to cull the herds. I have not had them, although i have had elk steak, and sausages made from deer meat. We had a friend who was a hunter and he would get the meat processed, because it was rather gamey. I would expect it to be a little expensive though.

•
20 Jul 09
Yes, buffalo burgers on Amazon are more than $50 for 8 patties - free delivery though.


• Canada
20 Jul 09
That does sound a little high. That is not just the postage and handling is it? Where was it shipped from,tat is, what part of the States?

•
21 Jul 09
http://www.amazon.com/gp/product/B00126ANZ8/ref=s9_simz_gw_s0_p251_t1?pf_rd_m=ATVPDKIKX0DER&pf_rd_s=center-1&pf_rd_r=0JXGBMKCNJP968H9HTZC&pf_rd_t=101&pf_rd_p=470938131&pf_rd_i=507846


•
20 Jul 09
Amazon also sell ostrich burgers - that's eating on the wild side


•
20 Jul 09
I wonder if it tastes like chicken? I went in a restaurant that claimed to be serving kangaroo once...

• United States
2 Aug 09
Yes, buffalo or bison meat is fairly readily availiable here in the USA, sorry it isn't where you are. There are many farms around the country that raise them, and you are right, the meat is very delicious. It is also much healthier for you, as it is lower in fat and cholesterol than regular beef, but is still just as juicy and tasty. We sell it in cryo-vac one pound packages at the grocery i work in, i think it sells for about $5 per pound here, a little more expensive than regular hamburger, but far worth it based on flavor and health benefits.

•
3 Aug 09
I'll have to ask my local butcher if he's heard of it as it must be available somewhere in England for me to have seen it being sold from that burger van. It would be great if was able to find it and started selling it as I'd like to try buffalo mince meat as well as the burgers.


• Shingle Springs, California
20 Jul 09
American bison (buffalo) aren't extinct but their population did get very low. The wild ones are still protected but there are some populations on farms. So yes, I have heard of buffalo burgers, I think I even saw them in my supermarket right next to the ostrich burgers. Can't quite bring myself to try them though.

•
21 Jul 09
It's hardly any different to beef in taste in fact it's slightly nicer, I saw a documentary where they exposed the fact that half of what we buy as beef in restaurants actually doesn't come from cows any more it comes from this strange looking African cow called a zebu anyway, and they've been proven to have poorer quality meat.

•
20 Jul 09
There are several herds of buffalo in the midwest. Pawnee Bills ranch at Pawnee, Oklahoma and the Tall Grass reservation near Tulsa, Oklahoma, both have herds. I've no doubt there are many others. You can get buffalo bergers and steaks in some eateries in Oklahoma as well.

•
20 Jul 09
I'm surprised it's not more common in the UK since it's apparently healthier than beef but you never hear of it, this van selling the burgers was the first time I'd seen it.

• United States
2 Aug 09
Good heavens no! Buffalo are by no means extinct although they were almost hunted down by early white settlers NEAR extinction. There are actually buffalo farms that raise buffalo now for human consumption. One supermarket near me sells ground buffalo meat though never tried it and it IS very expensive Look up buffalo farms--you may just find one that is close to you to order some...here's one in the New York area http://www.gemfarmsbuffalo.com/

• United States
2 Aug 09
Oops--didn't realize you from the UK...here's a place to get buffalo meat in the UK then http://www.northwalesbuffalo.co.uk/

• United States
29 Oct 09
Buffalo aren't extinct, the American Bison was all but hunted to extinction but they survived and are still around. I've personally seen many buffalo farms and had many buffalo burgers. Its true that its supposed to be much better for you than beef and I think even some poultry. It tastes just like beef so I liked it...

• United States
2 Aug 09
Hahaha extinct? Of course buffalo are not extinct. Drive around the prairie and you might see some. You can buy buffalo burgers at some restaurants in my area, such as Fuddrucker's. They aren't really that uncommon. But yeah, they are relatively healthy. There are probably places to get them in your area too if you are near a major city.