ECLIPSE ... will you be expeRiencing it tomorrow?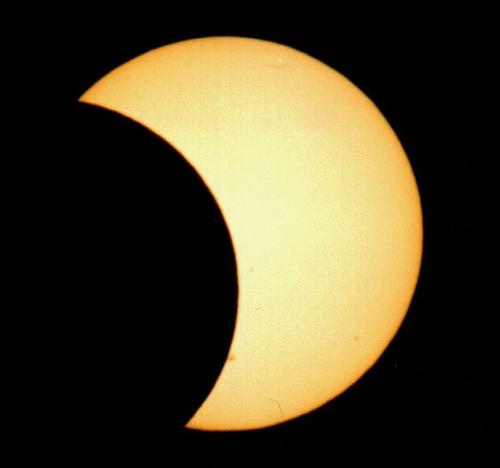 Philippines
July 21, 2009 7:05am CST
i have just heard in our news that we could be experiencing eclipse tomorrow for around 8:30am in the morning. i dont know what time that would be in other countries but the countries to experience a Total Solar Eclipse would be China, India... i dont know with the rest of the Asian countries. for us here in the Philippines we will just be experiencing a partial solar eclipse. just see the picture below, that will be the type we will see tomorrow. hope there wont be any clouds or rain clouds in that time. i am so excited!!! anyways, we must not look directly to the sun when it is in eclipse. we must use those eyeglasses that are used in welding. jhelai

4 responses


• Philippines
21 Jul 09
from where are you anyway my friend? maybe its time for you to look it up in some sites that tells about it. thanks friend for responding. jhelai


• Philippines
21 Jul 09
its a solar eclipse my friend and i guess it could only be seen in Asian countries. thanks friend jhelai


• Philippines
22 Jul 09
Oh hi jhe

! I didn't know there will be an eclipse today. I haven't been watching and listening to the news lately. But if I knew about it, for sure I will be waiting for it hehe.

We can also use film negatives for protection on our eyes when looking at a solar eclipse. The film negatives has the same effect as that of a the glasses used for welding. I have tried it when I first experienced a solar eclipse in my elementary years. Ciao!


• Philippines
22 Jul 09
yes you can surely also watch the eclipse by using the negative to be able to see the eclipse in full view without hurting our eyes. the last one ive seen is also during my elementary years. that is so awesome. a total solar eclipse. its like we are waiting for the moon the close up the sun. and then, total bliss. a very nice one. the two of them being together. so magnificent indeed. jhelai


• Philippines
22 Jul 09
here in batangas, philippines, it is a holiday since it is batangas day

. not that i'm working but the usual half day parade of schools and business institutions would be quite different because of the eclipse

.

• Philippines
22 Jul 09
i dont have the opportunity to see the eclipse my friend but still i am happy though its only partial here in the Philippines. i dont know what are the effects of eclipse. and i dont even know when will it happen again but i hope to see the total eclipse soon. jhelai


• India
21 Jul 09
Helo.I live in India and the eclipse will occur here around 5 in the morning.You know,here in my country there are lots of restrictions during eclipse hours,like,you cannot eat anything,cannot go out and so on.What happens in phillipenes?Are there any such traditions and prohibitions out there?

• Philippines
21 Jul 09
hello my friend devmitra of india. anyways, we dont have any restrictions or prohibitions. but still i guess that depends on the religion of the people around here. we live in a country with different religious groups. so that really still depends my friend. hope its fine with you. thanks friend for sharing. jhelai