hkbuzz notice


India
July 22, 2009 1:54am CST
I had emailed the support team because I was getting a suspended notice when I tried to open their homepage.This is the reply I got.I am doing my duty as directed in the message and sharing it with you:"Hello, if you can't access hkbuzz now, it's fine, because hkbuzz is moving to a new and more power server. hkbuzz will show suspend for now until it complete moved on the server.. could you please kindly tell this message to others? because we are looking for some way to output this news"Thanks everyone for reading this and I hope I have been able to benefit other members of Hkbuzz.
5 responses

• India
22 Jul 09
Thank you for posting this. I was also trying to log into my account but could not do that. Palmbux also has the same issue. I think it might take 1-2 days to work again. HKBUZZ is a good site and easy to reach payment. Good that the admin gave a response so we can wait for some time.


• United Arab Emirates
22 Jul 09
Yeah lets wait till palmbux goes online again. Anyways while waiting, I tried browsing other options on how to earn online, and i stumbled on this one thing that made me so curious, it was 5 days ago when i invested $1 and after 5 days as they promised I was paid 100% more of my initial investment. I did not tell any of this to my friends coz i wanna prove it first but then I got my first payment today hehehe. If anyone of you is interested about this thing, p.m. me and i'll give you my link. trust me this is for real.

• Delhi, India
22 Jul 09
Hi there! what is this all about? I have no idea about hkbuzz?

• Philippines
1 Aug 09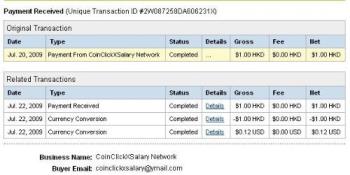 Hi! I'm so happy with HKbuzz. I received my first payment just 24hrs after i cashed out.It goes directly to my Paypal account. My plan is that when I reach my payout at mylot, I'm going to invest it Hkbuzz and get the monthly plan for $5.95:) I've also experienced that downtime from HKbuzz and I'm also happy that it came back up. Thank you Hkbuzz!

• India
22 Jul 09
I too observed the same with HKBUzz, Today morning when I tried for accessing the site it shows the Message that, "The Account is Suspended"

, The Site is Closed, and Perhaps it another scam Experience for me and My Friends too. Keep Smiling and Happy myLotting...