Getting My 3 Digits Earning From Google Adsense Tomorrow To Western Union!Yes!!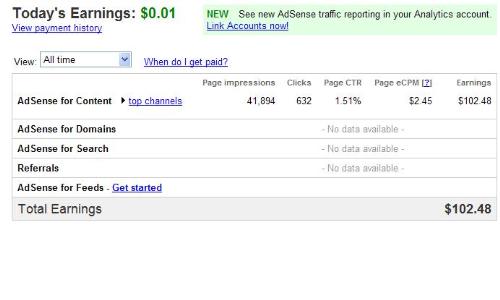 Philippines
July 22, 2009 8:24am CST
I can't believe this. Tomorrow, I will be proceeding in one of the branches of Western Union here in our area. I will be claiming the money sent to me by google adsense.It is

a three digit earning. I have work in this site for almost 4 months and was able to make the 100 dollars minimum pay out in 4 months. Since this is the first time I am going to do it, can you assist on the requirements that I have to bring. i have my government issued ID, but the middle name that appears in my ID is the whole middle name, but in my payee name in google, it is just the middle initial,will I encounter a

problem with that? Please share your opinion. I am very glad that I have earned as big as this amount just in what site. what about you? Were you able to get your earnings from google adsense??

10 responses


• Philippines
22 Jul 09
I am so glad and very happy with the achievement that I got the from the site.



• Philippines
22 Jul 09
Yes, and it is really a great effort.I am so glad that it was totally transferred.



• Philippines
23 Jul 09
Congratulations! I don't think there is a problem with your middle initial or middle name. Western Union needs only one ID to be presented in case you wish to get your money. For as long as your name in the ID and in the payee's name are the same, then you can withdraw your money in an instant. Enjoy with your money and spend it wisely. Have a good day.

• United States
23 Jul 09
That's great. I thought that that was a scam or something so I never joined. Might have to look back into it. Thanks


• Malaysia
23 Jul 09
Cool man congrats. Hope your site brings more hits!!

• India
22 Jul 09
Hi friend, Its great to earn very big amount within 4 months.I hope you would be out of joy and flying in sky like a bird with joy.lol Keep on doing. Have a nice day