Stop Ringling Bros. Circus from Abusing Elephants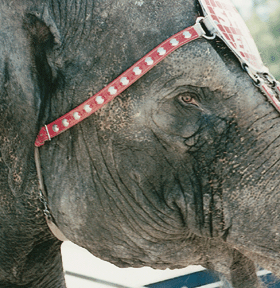 United States
July 22, 2009 1:41pm CST
The world-famous Ringling Bros. circus faces fresh accusations of animal abuse today after undercover videos show handlers beating elephants before they enter the ring. A worker with People for the Ethical Treatment of Animals used a secret camera to document what the group calls the abuse of animals as they're led from holding pens to the stage. The tape, made by a man who posed as a stagehand for six months, is likely to stir outrage and give animal rights activists new ammunition in their campaign against the circus that bills itself "The Greatest Show on Earth." Please View This Video it is just uncalled for blatant abuse. http://news.aol.com/article/peta-elephant-abuse-video/583087 Please go to PETA's NEW Website- Ringling Brothers Beats Animal...

PETA has filed a formal complaint with the USDA, but officials also need to hear from you. Write to Secretary of Agriculture Thomas J. Vilsack and demand that the agency seize the elephants whom Ringling hauls around the country in filthy boxcars and forces to perform under the constant threat of punishment. If officials act now, Tonka and her peers might be spared future beatings. These elephants should be sent to a sanctuary, where they would be able to roam across hundreds of acres of natural habitat, play in ponds, and socialize with their longtime friends—all of which elephants are deprived of in circuses. Pleas go to this website and click on the top tab to send a letter. Help Stop Big-Top Cruelty http://www.ringlingbeatsanimals.com/ Brightest Blessings to all.
3 responses

• United States
22 Jul 09

What is being done about it. Are they fining them? People should not support a circus who does this. I will not attend. It is wrong and they should have these animals taken away from them. They should not make money from illegal activities because abusing animals is against the law.

• United States
22 Jul 09
Once investigators capture video from an investigation, it is PETA's job to review all the footage and meticulously record the abuses and other notable findings. From that, they prepare condensed versions of the video for the public to view and draft complaints to officials, which in the new investigation into Ringling amounted to nine complaints to a total of 20 federal and state offices. (from this video) I hope people really check out the links and do what they can. Mari

• United States
8 Aug 09
Yuck. Pizza Hut supports Ringling Brothers Circus. They have some arrangement where they offer discounts for the tickets. I called Pizza Hut headquarters and emailed them advising of the animal abuse. I am supposed to be contacted in three business days. Fingers crossed ... hoping something good comes of it.

• United States
2 Aug 09
I am so glad you posted this. I was going to if I had not found anything in the search box. I signed the complaint, and I even called Ticketmaster (which is one vendor promoting it) and issued a formal complaint there. I will never buy using ticketmaster again. You have to hit them where it hurts: their wallets. I attempted to phone Ringling Brothers, but their phone number is only a recording and does not allow for messages. This makes me bodily ill to watch, and heart broken. Humans can be so cruel, and the watching the one elephant bonk her head around really does show she has gone mad due to the cruelty. The thing that makes me sickest, if you go to the Ringling Brothers website, they have a link to an elephant sanctuary, which is obviously there to trick the ignorant patrons into thinking they actually care about their animals. I subscribed to the peta newsletters, and am a practicing vegan and activist, but still, please keep us posted about what is going on. And keep bumping this up with activity so more people can see what is going on today.