Do you ride in a rollar coaster?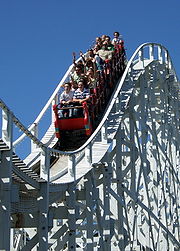 Sweden
July 25, 2009 2:06am CST
When I was a kid, we often took a ride to a park for roller coasters. Now, I never really like riding in roller coasters. After one incident I never do. I had promised my dad to take a ride in a big roller coaster, but before I went a ride with my mum and grandmother in the wirlwind, and I got so sick in my stomack after that ride that I could not go in any more of them. Now, this did disapointed my father since I had promised him to go. But I was to sick and had to stay on the ground with my granfather. I never ever have taken a ride in a roller coaster afther this experince. But I have gone there with my kids and they love it. Stay behind and just look at them while they are on the ride, make me sick to my stomack. How about you, do you love riding in roller coasters, or do you get sick when riding them like me?
9 responses

• United States
25 Jul 09
When I was a child, I was terrified of roller coasters! I would get on a few and the fear was overwhelming. But as a teenager, I loved them! I would go on as many as I could, although one roller coaster at a park called Frontier City, actually gave me whiplash! Apparently it did that to other people because after a couple years they closed it down due to complaints. But I haven't been to an amusement park since I was eighteen years old. If I were to go again, I'd try a roller coaster or two, but I don't know if I'd enjoy it as much as I did when I was a teen.

• Sweden
27 Jul 09

my son did enjoy it when he was smaler, today he is 18 and would think twise before going with one. But he was in everyone, some he did not go since he did not was long enough. There are rules on the hight of a person to be able to go in them. I guess you feel different during your development in age.


•
25 Jul 09
I love roller coasters that is a high light at any theme park if you ask me.Even as a child i used to love going on a roller coaster of any size.My oldest son tends to be sick everytime he gets on a roller coaster.I would love to go to a theme park that has a massive one.Happy Mylotting.

• Sweden
27 Jul 09
when my son was younger he loved roler coaster to, now he would not go in one and he cant beleive that he did dare to go in one. He was a little adveture young man as a kid, now 18. I usually did stay on the ground watching and my stomack would go up and down worrying about it...


• Australia
25 Jul 09
I love watching Roller Coasters and have been on the one at our small theme park. I have also gone on one at the Royal Show and it is really good. I love any rides and want to travel to Queensland so I can go to Dreamworld and have a fun filled time on all of the Rollercoasters and Rides...........The scarier the better I think. If you go to Youtube and search for Rollercoasters some people have ridden a few with a cam attached and it is awesome to watch.............

• Sweden
27 Jul 09
thank you for responding, I think some people travel all the world to find the roller coaster to give the cick they need. And yes, I see people going roler coaster on tv and think they must be crazy. I cant think of my self on a roler coaster today. anyhow, some do enjoy it and that is great for them. So you seems to be one of them.


• China
25 Jul 09
oh,Stimulation or adventure games,I have never tried,I would dizziness and vomiting

• United States
25 Jul 09
I think for me it depends on my mood. Sometimes if I go to a amusement park, I MUST ride a roller coaster, just for the adrenaline. It gets me pumped up, and it's very thrilling. But sometimes, I just get tired of riding rollercoasters, or I think I'm going to die in one of them if they look old and shabby.

• Sweden
25 Jul 09
Hi eyeronik and welcome to mylot, thanks for responding so fast.

Well, ever since my first ride in the wirlwind I have never taken a rid in a roller coaster. I really do not understand the amusing about it. But I guess some people like the spirits of that ride I guess.


• United States
26 Jul 09
Heck yeah! WEEEEEEEEEEEEEEEEEEEEEEEEEEe Gimme the fastest, highest one ya got! I'm not scared! I've been to King's Island in Ohio and Disneyland in California. I'd love to go to Cedar Pointe!

• Malaysia
26 Jul 09
I used to enjoy the rides when I was younger - it was really exhilirating, that mixture of fear and excitement! Now I don't think my heart can take it; I don't know why, maybe it's age. It's that queasy feeling of my heart (and stomach) taking a plunge every time the roller coaster takes a dip!

• United States
26 Jul 09
Yes I love roller coasters! Since the very first time I went to Cedar Point with my high school freshman class I have been hooked on roller coasters! Since then I have been to Kennywood twice and will be going again soon. I usually don't have anyone to ride the roller coasters with because my husband won't go with us and my mom is afraid of them but this time we will be taking someone who likes to ride them. I can't wait to go again! So sorry about your bad experience. It only takes one bad experience to ruin the fun in the future. :)

• Sweden
27 Jul 09
[b]So sorry about your bad experience. It only takes one bad experience to ruin the fun in the future.:) To be honest the person who handled wirlwind that day had our carrige go faster and faster the more I screamed and I think If I would have been older I probably would have had him arrested. Becouse he was not very nice, and he actually did spoiled the fun for me that day. I was sick the rest of the day, and could not even look at those roler coasters and had to spend the rest of the day with my grandfather.